Ultra Plug-in Heat Pump with HydroBoost and LeakGuard (120V Shared Circuit)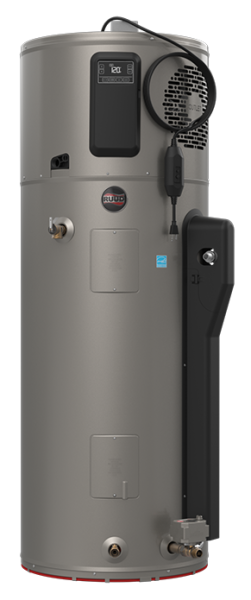 ProTerra® Plug-in Heat Pump Water Heater with HydroBoost and LeakGuard (120V Shared Circuit)
Efficiency
Up to 3.5 UEF reduces operating cost
ENERGY STAR® certified
Title 24 Compliant (JA13 Ready)
Performance
Delivers hot water more efficiently than most standard electric water heaters
Ambient operating range: 37-145°F is widest in class, offering more days of HP operation annually; designed to meet Northern Climate Spec (NEEA Tier 2)2
Integrated HydroBoost mixing valve maximizes output performance
Easy Installation
Easy access side connections
Factory installed plug-in power cord – plugs directly into a standard wall outlet
Easily replaces a standard gas water heater
Integration
Demand Response Ready – Built-in EcoPort (CTA-2045 Port) allows easy connection to Utility programs
LED Screen with built-in water sensor alert with audible alarm

1

Integrated EcoNet® WiFi-connected

2

technology and free mobile app gives users control over water heater, allowing for customizable temperature, vacation settings, energy savings and system monitoring at home or away
Integrated EcoNet® WiFi-connected2 technology and free mobile app gives users control over water heater, allowing for customizable temperature, vacation settings, scheduling, energy savings and system monitoring at home or away
Integrated leak detection and prevention system with factory installed auto water shut-off valve limits leaks to no more than 20 ounces of water1, 3
LeakSense™ Built-in Leak Detection System detects any leak large or small, internal or external1, 4
Operation Modes
Heat Pump
Vacation/Away: 2-28 days (or placed on hold indefinitely)
Plus...
Premium grade anode rod with resistor extends the life of the tank
3/4" NPT water inlet and outlet; 3/4" condensate drain connections
Easy access, top mounted washable air filters
2" Non-CFC foam insulation )
Enhanced flow brass drain valve
Temperature and pressure relief valve installed
Design certified to NSF/ANSI 372 (Lead Content)
Units meet or exceed ANSI requirements and have been tested according to D.O.E. procedures. Units meet or exceed the energy efficiency requirements of NAECA, ASHRAE standard 90, ICC Code and all state energy efficiency performance criteria.
1Available with select models. 2WiFi broadband internet connection required. 3Source: Rheem Leak-Sensing Data; testing under a vacuum lock using 50-gallon tank, no expansion tank, average tank pressure of 40 psi, assuming no additional faucets are opened. 4Water leaks from the heater only, as tested across scenarios including a minimum of 5.5mL/hr volume leak rate, using most common installation scenarios.
Specifications
Up to 3.5 UEF reduces operating cost
LeakSense™ Built-in Leak Detection System detects any leak large or small, internal or external
Factory installed plug-in power cord, direct plug-in
Easily replaces a standard gas water heater
Energy Guide Details

Certifications
Documents
Ultra™ Plug-in Heat Pump with HydroBoost and LeakGuard (120V Shared Circuit)
Warranties
10-Year limited tank and parts warranty

KwikComfort® Financing can help make your purchase even easier.
Ruud makes it easy to find a financing option that works for you! With many options and benefits available, KwikComfort Financing is the best way to get the home comfort you need without the wait.
Applications made easy

We'll help you avoid lengthy contracts, headaches and hassles.

Kwik credit decisions

You'll get an answer to your application within minutes.

Fast credit for the future

Finance your Ruud equipment and anything you want to add later.

Reduced interest/fixed payments

Get low interest and fixed monthly payments until the purchase is paid.

Minimum monthly payment

Take advantage of convenient monthly payments that fit your budget.

Deferred interest/no interest

Enjoy interest-free payments as long as the balance is paid by the due date.