Choice Series: 14 SEER (WP14**A)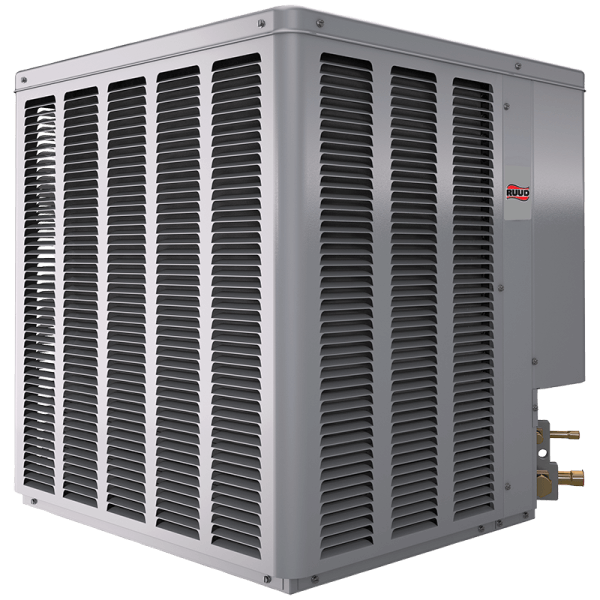 Features
Coils constructed with copper tubing and enhanced aluminum fins.
Includes factory installed low pressure control.
Strong, attractive cabinet—louvered design protects the coil from damage.
Expansion Valves with Internal Check Valve—Provides for quieter refrigerant metering.
Demand Defrost Control
Non-Cycling Reversing Valve
Hot Gas Muffler
Service Valves
Grille/motor mount for quiet fan operation.
Easily accessible control box.
Bi-Directional Filter Drier (shipped – not installed)
Certified and rated under AHRI Standard 240.
U.L listed.
Applications
WeatherKing remote heat pumps offer comfort and dependability for single, multi-family and light commercial applications.
Specifications
Not Available in Canada
Cooling efficiencies up to 14 SEER/11.5 EER
Includes factory installed low pressure control
Easily accessible control box.
Demand Defrost Control
Certifications
Documents
Ruud Choice Series WP14
Warranties
Parts - 5 Years

KwikComfort® Financing can help make your purchase even easier.
Ruud makes it easy to find a financing option that works for you! With many options and benefits available, KwikComfort Financing is the best way to get the home comfort you need without the wait.
Applications made easy

We'll help you avoid lengthy contracts, headaches and hassles.

Kwik credit decisions

You'll get an answer to your application within minutes.

Fast credit for the future

Finance your Ruud equipment and anything you want to add later.

Reduced interest/fixed payments

Get low interest and fixed monthly payments until the purchase is paid.

Minimum monthly payment

Take advantage of convenient monthly payments that fit your budget.

Deferred interest/no interest

Enjoy interest-free payments as long as the balance is paid by the due date.