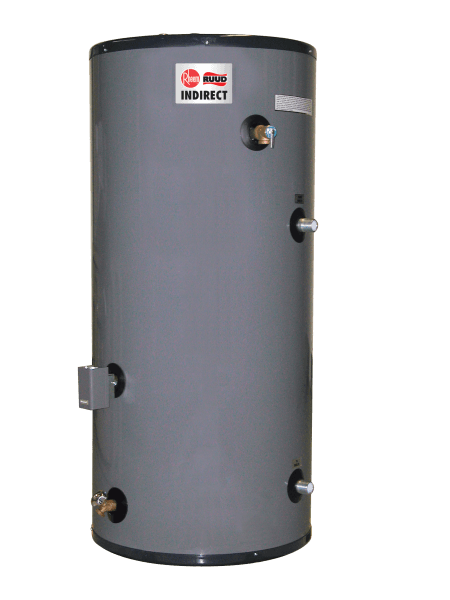 Loading Rebates

Built to last–tank is manufactured from heavy gauge steel. Longer life equals a higher "return on investment". Outer jacket is made from steel and powder coated for a lasting, durable finish.
Temperature porcelain enamel protects all tank and coil – and maximizes corrosion resistance.
Factory installed automatic temperature controls – immersion aquastat on all models.
Factory installed brass drain valve.
Sediment reduction inlet – standard on the STID80 and STID120. Reduces sediment buildup on the tank bottom – increasing operating efficiencies and tank life.
Temperature and pressure relief valve – CSA/ASME rated and factory installed.
1-1/2" Coil diameter – larger diameter, results in higher recovery and less pressure drop through the coil – smooth surface on the coil resists lime build-up.
2" Non-CFC foam insulation – provides superior insulating quality and decreases standby heat loss.
Two heavy-duty magnesium anode rods – inhibit corrosion and maximize tank life.
Factory installed dielectric nipples – provide greater insulating protection against electrolysis.
DESCRIPTION

INDIRECT MODELS

GAL CAP.
MODEL NUMBER


45

STID50
Specifications
Built to last
High temperature porcelain enamel protects all tank and coil
Two heavy-duty magnesium anode rods
Factory installed automatic temperature controls
Certifications
Documents
Warranties
Limited Tank Warranty - 3 Years

KwikComfort® Financing can help make your purchase even easier.
Ruud makes it easy to find a financing option that works for you! With many options and benefits available, KwikComfort Financing is the best way to get the home comfort you need without the wait.
Applications made easy

We'll help you avoid lengthy contracts, headaches and hassles.

Kwik credit decisions

You'll get an answer to your application within minutes.

Fast credit for the future

Finance your Ruud equipment and anything you want to add later.

Reduced interest/fixed payments

Get low interest and fixed monthly payments until the purchase is paid.

Minimum monthly payment

Take advantage of convenient monthly payments that fit your budget.

Deferred interest/no interest

Enjoy interest-free payments as long as the balance is paid by the due date.