Space Heating AND
Water Heating,
Combined
One Efficient Unit,
Two Comfort Solutions
The Ruud® High Efficiency Combination Boiler offers both space heating and domestic water heating in one unit. So whether you need the living room to be extra cozy for movie night or you're ready for a hot, relaxing bath, the Combi Boiler has you covered.
High Efficiency
A 95% AFUE rating means energy savings and potential rebates
Two In One
Enjoy both space heating and domestic hot water in one durable unit, from a brand you trust
Saves Energy
It only produces domestic hot water when you need it, so you save energy and money
Saves Space
A single combi boiler frees up valuable space by replacing your boiler and tank water heater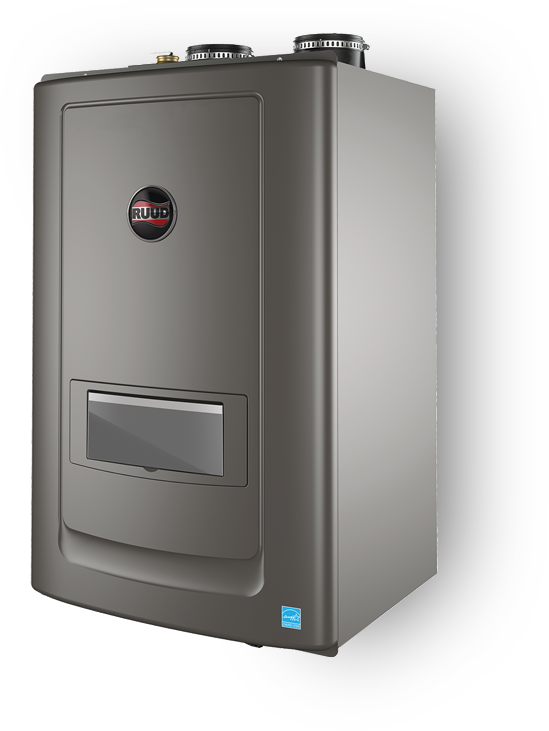 Ruud Combi Boiler Features & Benefits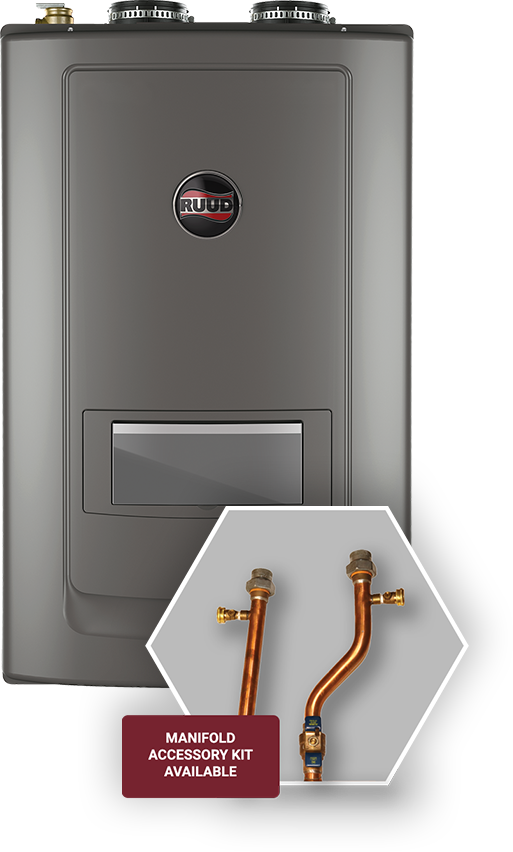 95% AFUE

Delivers 95 BTUs of heat for every 100 BTUs of gas input, qualifying some customers for local and/or utility rebates

Lower Installation Costs

Installs with 2″ and 3″ Schedule 40 PVC venting, which is easier to work with and lower cost than stainless steel, saving you money and time

Plate Heat Exchanger

Transfers heat generated in the space heating process to the domestic water flow for continuous hot water

Separate Loops

Keep water for space heating and domestic hot water in two separate loops

Outdoor Reset Sensor

Tracks outdoor temperatures and overrides the heating set point as needed to keep the home comfortable when weather changes

Built-In Three-Speed Pump

Offers convenience and performance

Auto-Boost

Kicks in to provide extra heat if the thermostat set point has not been achieved in a reasonable time1

Built-in Auto Feeder

Maintains hydronic loop pressure automatically between 12–30 PSI

Max Vent Lengths of 100′ for 3″, 50′ for 2″

Means more flexible and versatile installation options2

Vent With Room Air

Saves money and time on installation3
Ruud Model Number
RUCBH-199DVLN
RUCBH-199DVLP
RUCBH-180DVLN
RUCBH-180DVLP
Gas Input Rate for
Space Heating4
MAX
120,000 BTU/h
100,000 BTU/h
MIN
18,000 BTU/h
18,000 BTU/h
Gas Input Rate for Domestic
Hot Water (DHW)
MAX
199,000 BTU/h
180,000 BTU/h
MIN
18,000 BTU/h
18,000 BTU/h
AFUE
95%
95%
Turndown Ratio (Space Heating)
6.7:1
5.6:1
Turndown Ratio (DHW)
11:1
10:1
Continuous Flow Rate
(DHW)
MAX
9.9 GPM
9.0 GPM
45°F Rise
7.7 GPM
7.0 GPM
77°F Rise
4.5 GPM
4.1 GPM
Number of Bathrooms5
2–2.5
2
Temp. Range
Space Heating
100–180°F
DHW
90–140°F
Type
Indoor Direct Vent
Flue System
Sealed Combustion Direct Vent or Room Air Intake
Ignition System
Direct Electronic Ignition / Automatic Flame Sensing
Burner System
Premixed Metal Fiber Burner
Gas Valve System
Air Ratio Valve
Minimum Activation Flow Rate
0.5 GPM
Minimum Continuous Flow Rate
0.4 GPM
Internal Pipe Material
STS 304, Copper Tubing (Primary and Secondary)
Water Holding Capacity
Under 2 Gallons
Water Pressure6
MAX
DHW 150 PSI / Heating 30 PSI
MIN
DHW 15 PSI / Heating 12 PSI
Gas Pressure
Nat. Gas
3.5″ WC to 10.5″ WC
LP Gas
8.0″ WC to 14.0″ WC
Materials
Casing
Cold Rolled Carbon Steel
Heat Exchanger
STS 304 Stainless Steel
Safety Devices
Flame Sensor, Overheat Cut Off Limit Switch, Gas Leak Detector,
Water Leak Detector, Exhaust Thermistor, Pressure Sensor,
Heating Supply Thermistor
Warranty
Residential – 10-Year Heat Exchanger,
5-Year Parts, 1-Year Labor
Compatible with
Hydronic Air Handlers
The Combi Boiler works with hydronic air handlers, offering the ability to integrate space heating and domestic water heating systems to maximize energy efficiency and minimize energy costs.
Learn More
Enjoy Space Heating and Water Heating in One
Bring home the comfort and savings of the Ruud Combination Boiler.
1Auto Boost Feature requires installation of outdoor reset sensor. 2Up to 50′ @ 2″ and 100′ @ 3″; Maximum equivalent venting lengths: see Installation Instructions for additional details. 3Follow the National Fuel Gas Code (ANSI Z223.1 / NFPA 54). 4Gas input (BTU/h) de-rates at higher than sea level installations. 5Individual results may vary based on temperature rise demands. 6DHW water pressure must be greater than the heating system water pressure.