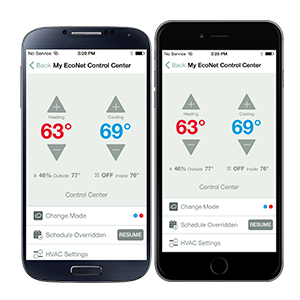 Safety, Stability, Simplicity
The Ruud EcoNet App has been rebuilt from the ground up!
Leveraging the latest in Cloud and Smart Home technology, EcoNet now gives you instantaneous control of your Ruud EcoNet Enabled Water Heaters and Heating & Cooling equipment.

Redesigned with your user experience in mind, version 3.0 features a modern UI that gives you the information you want at a glance, and allows full control of your home atmosphere with just a few taps.

Download the new Ruud EcoNet App today to experience the best EcoNet yet. Now that's integrated home comfort!

Save Money. Save Time. Get Piece of Mind.

The Ruud EcoNet App allows you to fit complete control of your home comfort in the palm of your hand, no matter where you are!
Control your Ruud EcoNet systems with leading mobile and tablet devices.
The apps are powerful — and absolutely free.