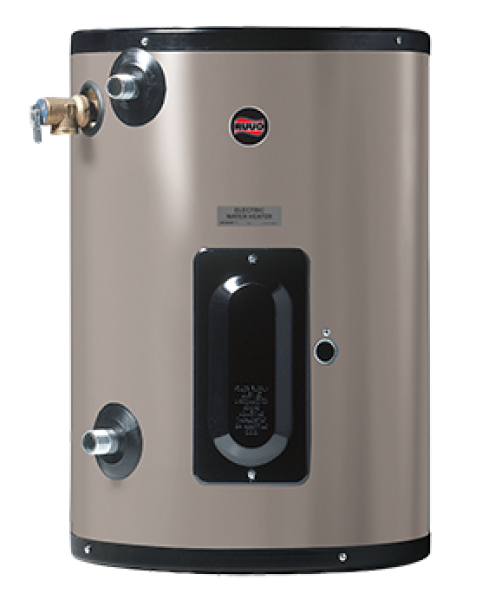 Point-of-Use commercial electric line is designed to provide hot water at the consumption point, eliminating costly temperature loss in long piping runs
Features:
Long life tank design – Proprietary steel formulation with a unique coat of high temperature porcelain enamel to maximize corrosion resistance resulting in a superior tank design. Our heavy duty anode rod provides advanced technology and equalizing aggressive water action. This prolongs the effective life of the anode rod and in turn the life of the tank.
Long life heating elements – Our patented resistor elements are designed with a specially treated, double layer of magnesium oxide and copper to resist corrosion.
Efficient design – Rigid polyurethane foam insulation provides superior insulating qualities resulting in reduced
operating costs.
Optional wall mounting kit – The wall mounting kit provides an easy way to mount the unit off the floor, out of the way for more useable floor space in a small area. Each kit is designed to be used on walls with 16" stud centers. All necessary parts are included in this easy to install kit. (Note: The 2-1/2 gallon model comes standard with a wall mounting kit.)
Automatic temperature control – A surface mounted thermostat automatically cycles on and off to maintain the water temperature at a desired preset level.
Temperature limiting control – Automatically and safely cuts off the power in the unlikely event that the water temperature exceeds 190°F.
Temperature and pressure relief valve – CSA/ASME rated and factory installed.
Specifications
1440 - 6000 watts
120, 208, 240, 277 and 480 voltages
2.5, 6, 10, 15, 20 and 30 gallon capacities
Porcelain enamel lined tank
Heavy-duty anode rod
Energy Guide Details

Certifications
Documents
Point-of-Use
Warranties
Tank - 3 Years
Parts - 1 Year

KwikComfort® Financing can help make your purchase even easier.
Ruud makes it easy to find a financing option that works for you! With many options and benefits available, KwikComfort Financing is the best way to get the home comfort you need without the wait.
Applications made easy

We'll help you avoid lengthy contracts, headaches and hassles.

Kwik credit decisions

You'll get an answer to your application within minutes.

Fast credit for the future

Finance your Ruud equipment and anything you want to add later.

Reduced interest/fixed payments

Get low interest and fixed monthly payments until the purchase is paid.

Minimum monthly payment

Take advantage of convenient monthly payments that fit your budget.

Deferred interest/no interest

Enjoy interest-free payments as long as the balance is paid by the due date.