Ruud® Tankless
Water HeatersSavings & Hot Water That
Never Runs Cold
Take advantage of more savings,
convenience and hot water availability
with new Ruud® Tankless Water Heaters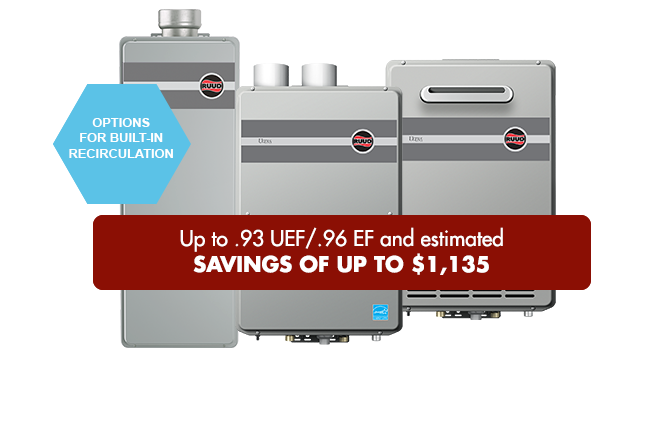 Standard Tank-Type
vs. Ruud-Brand Tankless Solutions
The Tankless line makes it easy to replace a traditional tank—plus, it delivers improved energy efficiency, greater cost savings, water savings and long-term reliability.

Tankless Features & Benefits
Why choose a Ruud Tankless solution?
Ruud Tankless Water Heaters offer the savings, comfort and protection
Savings

Comfort

Protection

How it Works

The Ruud Difference
SAVE MONEY

High Efficiency Tankless Gas Water Heaters save an estimated $1,100 over 12 years1, and some qualify for rebates

SAVE Space

Compact sizes and outdoor models free up valuable space in your home

SAVE WATER

Exclusive Water Savings Setting saves up to 1,100 gallons of water per year3

SAVE ON INSTALLATION

½" gas line compatibility (all models) and low-cost PVC venting and built-in condensate neutralizer (high efficiency models only) save installation time and money
MAXIMIZE HOT WATER

Load the laundry, start the dishes, and still have enough hot water to enjoy a relaxing hot bath

ENJOY FASTER HOT WATER

Choose a Mid Efficiency Tankless Water Heater with Built-In Recirculation Pump unit or add a recirculation pump kit for faster hot water at the faucet

MINIMIZE COLD WATER BURSTS

Exclusive Hot Start Programming keeps Ruud Tankless Water Heaters in ready-fire state between back-to-back hot water needs
STAY SAFE

Exclusive Overheat Film Wrap shuts down the unit if the heat exchanger overheats for added safety in your home
PIONEERING

Ruud Tankless Water Heaters offer many exclusive, industry first and industry best features

A LEGACY OF EXPERTISE

Ruud water heaters have delivered proven quality and durability for homes for more than 100 years
1Based on comparison of a Ruud® Ultra® Series Condensing Tankless Water Heater (natural gas) with .96 EF and a 50-gallon standard residential natural gas tank-type water heater with a 0.60 EF; Savings claim based on difference in annual operating costs from DOE over the 12-year warranty period of the Ruud tankless unit; Savings higher for liquid propane models. 2According to a 2015 survey of tankless contractors by Hanover Research on behalf of Ruud. 3Savings per News Bulletin released by the United States Department of Energy / Oak Ridge National Laboratory, November 2002 study on water and energy savings in residential homes using hot water recirculating system. 4Results may vary based on your location; Consult a tax professional regarding your individual tax situation and ability to claim a tax credit related to the purchase of qualifying Ruud® product. 5Installation conditions vary; Consult the Ruud Use and Care Manual, the Ruud Gas Piping Facts brochure (TK-GPF-12), the National Fuel Gas Code (NFPA 54, ANSI Z223.1), and any other local gas codes when installing a Ruud Tankless Water Heater. 6Availability claim based on review of U.S. customers in April of 2016 and Canadian customers in May of 2016.