The Ruud Tankless Advantage
For more than 100 years, Ruud® has been a leader in home comfort solutions. Our tankless technologies are built on that expertise, providing a great fit for your family.
Continuous hot water

Load the laundry, start the dishes, and still have enough hot water to enjoy a relaxing hot bath

Energy cost savings

Save an estimated
$1,000 in lifetime energy3

Installation cost savings

Components and common hook-up dimensions make it easier to replace a traditional tank

$300 Tax Credit eligible

Additional local utility rebates may also be available1

Preferred by contractors

More contractors sell Ruud Tankless Water Heaters than any other brand4
Hot water & savings that never run cold
With the comfort and convenience of continuous hot water, now you can load the laundry, start the dishes, and still have enough hot water to enjoy a relaxing hot bath or shower, all at once
Delivers hot water when you need it

Tankless design heats water only when you need it, for as long as you need it

Minimizes "cold water sandwich"

Exclusive Hot Start Programming keeps tankless in ready-fire state to cut down on bursts of cold water between back-to-back hot water needs

Enjoy faster hot water

With our additional Tankless Recirculation Pump Kit, you can keep hot water flowing through your home, for instant hot water when you need it
New ways to enjoy long-term savings
Our industry-leading energy-efficient design delivers an estimated lifetime savings of up to $1,100 on energy costs.
Save on energy costs

Estimated lifetime savings of $1,0003

Save space within your home

Frees up valuable space within your home with sizes comparable to a medicine cabinet and with outdoor models

Saves money and time on installation

Ruud Tankless models are, and have been, compatible with the standard ½" gas line making it easier to replace a traditional tank

Enjoy Federal Tax Credits

Up to $300, plus local utility rebates for added savings1
Continuously worry-free hot water
Continuous hot water makes our Tankless solutions easy to love, but they're also easy to own. Backed by an exceptional 12-year warranty, customer service, and exclusive features for added built-in safety, this innovative line is designed for peace-of mind—day in, day out
Delivers built-in protection

Hard water build-up indicator automatically displays service alert in case water heater detects scale build up

Offers built-in safety features

Our exclusive PlusOne™ Guardian Overheat Film Wrap shuts down the unit if the heat exchanger ever overheats

Effortless maintenance

Our built-in Maintenance Notice Setting alerts you after 1 to 1½ years of water heater use that it's time for the unit to be serviced
Standard Tank-type vs.
Ruud Tankless Solutions
Our improved Tankless line makes it easy to replace a traditional tank and also delivers greater energy efficiency, exceptional cost savings, water savings and long-term dependability.
How It Works
Watch the quick overview video comparing tankless technology with traditional tank water heaters.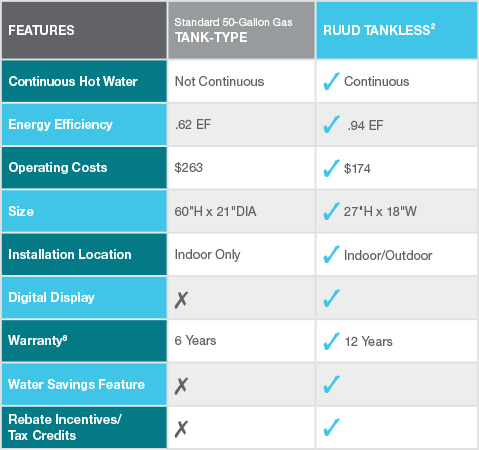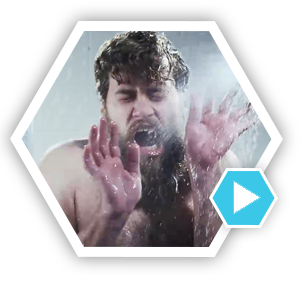 | | |
| --- | --- |
| | Quick and Easy FinancingGet a range of fast and flexible credit options through select independent Ruud contractors.Learn more > |
| | Easy InstallationGet expert installation and support through an independent Ruud contractor near you.Learn more > |
1 Consult a tax professional regarding your individual tax situation and ability to claim a tax credit related to the purchase of qualifying Ruud® products
2 Savings based on DOE test procedures, available only on models featuring a -1 in the model number
3 Based on comparison of a Ruud® Prestige® Condensing Tankless Water Heater (natural gas) with 0.94 EF and a 50-gallon standard residential natural gas tank-type water heater with a 0.62 EF; Savings claim based on difference in annual operating costs from DOE over the 12-year warranty period of the Ruud tankless unit; Savings higher for liquid propane models
4 According to a 2015 survey of tankless contractors by Hanover Research on behalf of Ruud
5 Installation conditions vary; Consult the Ruud Use and Care Manual, the Ruud Gas Piping Facts brochure (TK-GPF-12), the National Fuel Gas Code (NFPA 54, ANSI Z223.1), and any other local gas codes when installing a Ruud Tankless Water Heater
6 Savings based on DOE test procedures; available only on models featuring a -1 in the model number