Ruud® Tankless Water HeatersSAVINGS & HOT WATER
THAT NEVER RUN COLD
Get the Tankless Advantage
Enjoy more savings, unmatched convenience and continuous hot water with new Ruud® Tankless Water Heaters—and get estimated savings of up to $1,1001.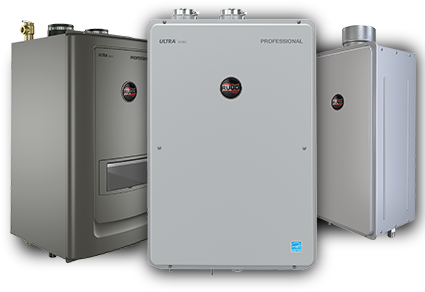 Tankless Features & Benefits
Why choose a Ruud Tankless solution? Ruud Tankless Water Heaters offer the savings, comfort and protection you need.
Savings

Comfort

Protection
SAVE MONEY

High Efficiency Tankless Gas Water Heaters save an estimated $1,100 over 12 years1, and some qualify for rebates2

SAVE SPACE

Compact sizes and outdoor models free up valuable space in your home

SAVE WATER

Ruud Condensing Tankless Gas Water Heaters save up to 12,000 gallons3 of water per year with a Ruud Tankless Water Heater with Built In Recirculation Pump

SAVE ON INSTALLATION

1/2" gas line compatibility (all models), low-cost PVC venting (condensing models) and built-in condensate neutralizer (select condensing models only) save installation time and money4
EXPERIENCE THE LUXURY OF CONTINUOUS HOT WATER

Load the laundry, start the dishes, and still have enough hot water to enjoy a relaxing hot bath

ENJOY FASTER HOT WATER

Choose a Tankless Water Heater with Built In Recirculation Pump or add a recirculation pump kit for faster hot water at the faucet

MINIMIZE COLD WATER BURSTS

Exclusive Hot Start Programming keeps Ruud Tankless Water Heaters in ready-fire state between back-to-back hot water needs
STAY SAFE

Exclusive Overheat Film Wrap shuts down the unit if the heat exchanger overheats for added safety in your home

PROTECT YOUR HOME

Available EcoNet® WiFi Kits send mobile maintenance reminders and detect and alert you to water leaks after shutting off water and gas to the unit (indoor models only5).
Ruud Tankless Choices
There's a Ruud tankless option that's just right for you, offering your desired efficiency level, indoor vs. outdoor installation, recirculation pump options and even hydronic heating. Click on each image below to view product details.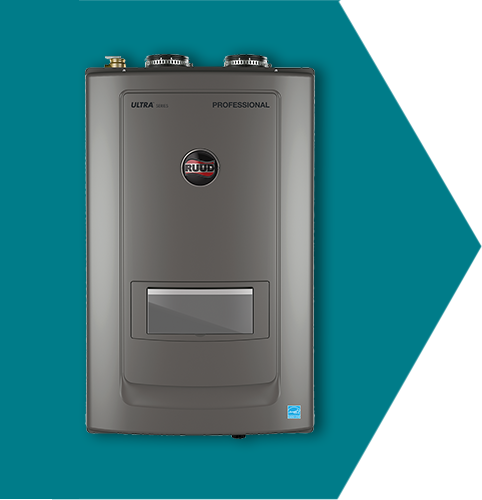 Double the Comfort from One Unit
The Ruud® Combination Boiler joins the benefits of a tankless water heater with those of a hydronic boiler—all in one one space-saving unit.
The Combi delivers:
Up to 9.9 GPM of continuous hot water
95% AFUE hydronic space heating
Compatibility with hydronic devices like registers, in-floor radiant heating systems, ceiling panel heaters—even hydronic air handlers
Learn More
Advanced Protection
More Control
EcoNet® WiFi Technology – you can add EcoNet capability to a Ruud tankless gas water heater produced 2010 or later (excluding Condensing with Built In Recirculation and Combi units), or purchase a Tankless Gas Water Heater with EcoNet Built In to enjoy:
Leak detection with auto shut-off5 – to protect your home and belongings
Integration with Smart Home Systems – to control and monitor with your voice
Mobile temperature control, alerts and reminders6 – for total control over your home comfort
Notifications you can forward to your plumber – for faster, easier repairs
1Based on comparison of high efficiency condensing natural gas tankless model against 50-gallon tank type model with like fuel type. Savings for liquid propane models may be higher. 2Results may vary based on your location; Consult a tax professional regarding your individual tax situation and ability to claim a tax credit related to the purchase of qualifying Ruud® product. 3Savings based on DOE test procedures; available only on models featuring a -1 or -2 in the model number. 4Savings based on included components and compatibility; Installation conditions vary; Consult the Ruud Use and Care Manual, the Ruud Gas Piping Facts brochure (TK-GPF-12), the National Fuel Gas Code (NFPA 54, ANSI Z223.1), and any other local gas codes when installing a Ruud Tankless Water Heater. 5Water leak detection and auto shut-off features available with indoor models only. 6EcoNet is built into certain Ruud Tankless Water Heaters and available as an accessory for models produced after 1/2010 (excl. Ruud Tankless Water Heaters with Built In Recirculation Pump and Combination Boilers); WiFi broadband Internet connection required. Download the FREE EcoNet App from the App Store for Apple iPhone, iPad and iPod users, and Google Play for Android users to set up your EcoNet WiFi Kit; notifications are dependent upon external providers (phone carrier, cell phone, email, and installation factors, such as walls, location, etc.); Ruud cannot guarantee notifications will be received by the intended recipient; Leak Detection feature not available on outdoor models.