Achiever Plus Series RP17**H Side-Discharge Heat Pump (Copy 1)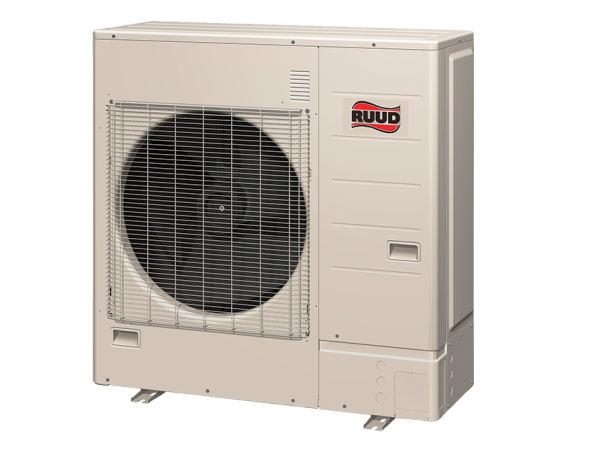 The Ruud Achiever Plus Side-Discharge Heat Pump & Multi-Position Air Handler offers a Sound & Space Constraint Solution that provides system options for installations with tight space requirements and / or outdoor sound regulations.
Variable Speed, inverter technology provides just the right amount of heating and cooling under all conditions for dependable comfort and energy savings year-round.
The Ruud RP17**H Side-Discharge Heat Pump allows for flexible installation in tight outdoor spaces with a minimum clearance of only 21" on 3-sides, while the 3-Way Multi-Position Air Handler provides multiple indoor configuration options.
Quiet Operation Inside & Out. The RP17**H Heat Pump is able to streamline airflow and reduce vibration allowing for a much quieter outdoor operation.
Specifications
Matched with Air Handler RHMV*****N to offer a Sound & Space Constraint Solution
Efficiency: 19 SEER/12 EER / 10.7 HSPF
Nominal Sizes: 2, 2.5, 3 & 4 Ton
Certifications
Documents
RP17**H Heat Pump (Sound & Space Constraint System)
Warranties
Parts - Ten (10) Years

KwikComfort® Financing can help make your purchase even easier.
Ruud makes it easy to find a financing option that works for you! With many options and benefits available, KwikComfort Financing is the best way to get the home comfort you need without the wait.
Applications made easy

We'll help you avoid lengthy contracts, headaches and hassles.

Kwik credit decisions

You'll get an answer to your application within minutes.

Fast credit for the future

Finance your Ruud equipment and anything you want to add later.

Reduced interest/fixed payments

Get low interest and fixed monthly payments until the purchase is paid.

Minimum monthly payment

Take advantage of convenient monthly payments that fit your budget.

Deferred interest/no interest

Enjoy interest-free payments as long as the balance is paid by the due date.