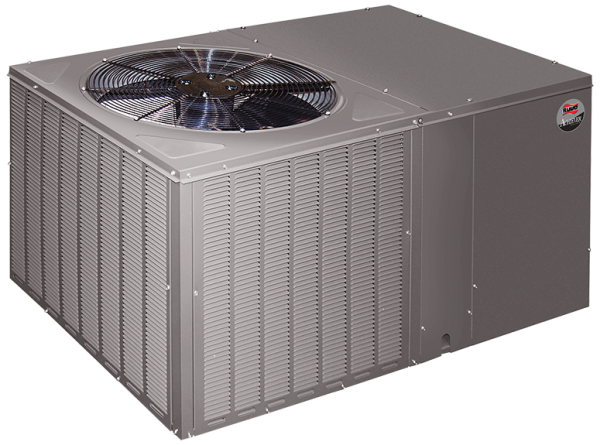 Durable Cabinet. Our galvanized steel cabinet protects your Rheem unit from the elements, helping reduce maintenance expense. Our slim design occupies less room in your yard and installs with a flush fit against your home.
Serviceability. Service time and expense are kept to an absolute minimum. Four service panels provide your technician easy access to all internal components.
Fan-tastic. Our motor mount prevents damage to your fan motor, extending its service life.
Protective Barrier. Each unit features full-louvered protection of the sensitive condenser coil, which keeps damage caused by accidental contact to a minimum, and adds to the longevity of your unit.
Heart & Scroll. The heart of your Package AirConditioner is the compressor. That's why every Rheem unit features a Scroll® Compressor – widely recognized as the industry standard for performance and durability.
Low Corrosion. Low Sound. Special base rails elevate the bottom of the unit off the ground and away from corrosive condensation. The combination of the durable cabinet, large outdoor fan, scroll compressor and elevated base pan all contribute to quiet, dependable operation.
Specifications
14 SEER
1 & 3 Phase Models
Scroll Compressor
Nominal Sizes: 2 - 5 Ton
Certifications
Documents
RSPM (2 - 5 Ton)
Warranties
Conditional Parts - 10 Years (1-Phase Residential, Registration Required)
Compressor - 10 Years (1-Phase, Residential) 5 Years (1 & 3-Phase, Commercial)
Part 1 Year (Commercial)

KwikComfort® Financing can help make your purchase even easier.
Ruud makes it easy to find a financing option that works for you! With many options and benefits available, KwikComfort Financing is the best way to get the home comfort you need without the wait.
Applications made easy

We'll help you avoid lengthy contracts, headaches and hassles.

Kwik credit decisions

You'll get an answer to your application within minutes.

Fast credit for the future

Finance your Ruud equipment and anything you want to add later.

Reduced interest/fixed payments

Get low interest and fixed monthly payments until the purchase is paid.

Minimum monthly payment

Take advantage of convenient monthly payments that fit your budget.

Deferred interest/no interest

Enjoy interest-free payments as long as the balance is paid by the due date.