E3T Digital Pool and Spa Heater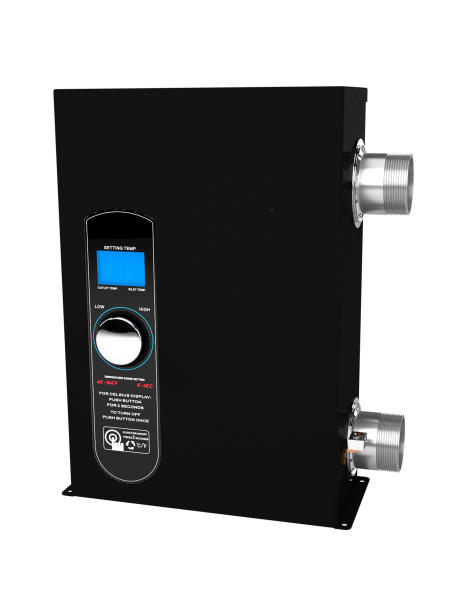 Built-in intelligence.


The E3T is equipped with easy to use digital controls and diagnostics. Our digital control center shows the desired set point and lets you set the temperature exactly where you want it. The easy to read display allows you to see temperature, GPM flow, and diagnostics. The intuitive alert system keeps you informed.
Main Features:


Titanium Element
The E3T has a robust titanium heating element that not only prolongs the life of the heater, but allows it to work in extreme pool water environments, such as salt water chlorinated pools.
316L Stainless Steel
316L stainless steel is used in the construction of our heaters. This high grade, corrosion resistant steel is especially suited for salt water heating applications.
Flow Sensor Technology
E3T operates by utilizing the latest flow sensor technology instead of the traditional pressure switch activation. Our heater is programmed to have a minimum flow activation rate of 15 Gallons Per Minute, this helps protect the elements and prolong their lifespan.
Solid State Design
The E3T uses solid state controls to eliminate noisy and troublesome contactors providing quiet, reliable operation. The advanced design allows the heater to modulate power, only using the energy necessary to maintain desired temperature.
Ready To Install
E3T pool and spa heaters are compact, come standard with union connections, and are easy to install. They are the perfect solution for a new pool or spa, as well as to replace any existing pool or spa heater. Available in 5.5, 11, 18 and 27 kW.
Specifications
Models: 0005 - 0027
Sizes: 5.5, 11, 18 and 27 KW
Titanium Element
316L Stainless
Flow Sensor Technology
Solid State Design
Ready To Install
Energy Guide Details

Certifications
Documents
E3T Digital Pool and Spa Heater

KwikComfort® Financing can help make your purchase even easier.
Ruud makes it easy to find a financing option that works for you! With many options and benefits available, KwikComfort Financing is the best way to get the home comfort you need without the wait.
Applications made easy

We'll help you avoid lengthy contracts, headaches and hassles.

Kwik credit decisions

You'll get an answer to your application within minutes.

Fast credit for the future

Finance your Ruud equipment and anything you want to add later.

Reduced interest/fixed payments

Get low interest and fixed monthly payments until the purchase is paid.

Minimum monthly payment

Take advantage of convenient monthly payments that fit your budget.

Deferred interest/no interest

Enjoy interest-free payments as long as the balance is paid by the due date.