Rheem Air to Water Heat Pump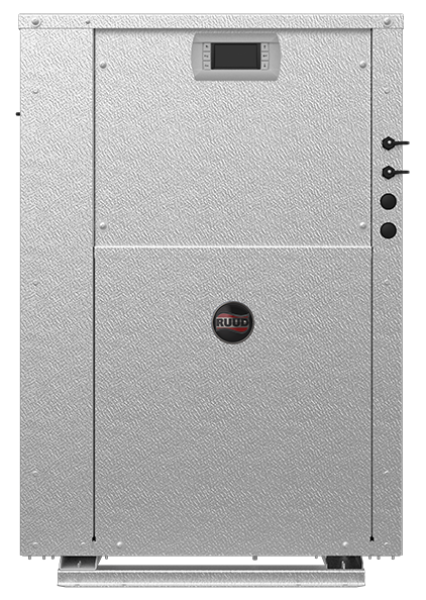 Highly Efficient
On average, 25% of the operating cost of an electric water heater. Delivers hot water with a system Coefficient of Performance (COP) exceeding 4.0 at 80 degrees ambient and 60% relative humidity. This makes it substantially cheaper to run than electric, natural gas or propane. Heat pumps can also be used as a preheat to other fuel types. Contributes to the overall increase in building efficiency and can qualify for LEED points.
More Location Choices
The heat pump can be located indoor or outdoor to free up valuable indoor space. Unlike gas the heat pump can draw air from and discharge within the surrounding area so it is not limited by venting.
Multiple Configurations
Designed for both vertical or horizontal discharge options, with the option to convert to ducted with kit. Horizontal discharge models can also be stacked two high to reduce plant footprint with kit.
Suits Most Mild Climates
Automatic defrost allows continued performance in low ambient temperature conditions by diverting a portion of the hot refrigerant to the evaporator coil to melt any ice which may form. In addition, the evaporator is epoxy coated copper to provide extra protection in corrosive atmospheres, and the unit has been tested in ambient conditions as high as 104°F.
Specifications
208 or 240 Volt / 1 PH or 480 Volt /3 PH
Flexible Indoor or Outdoor Use
Double Wall Heat Exchanger
Energy Guide Details

Certifications
Documents
Ruud Air to Water Heat Pump 60k BTUh

KwikComfort® Financing can help make your purchase even easier.
Ruud makes it easy to find a financing option that works for you! With many options and benefits available, KwikComfort Financing is the best way to get the home comfort you need without the wait.
Applications made easy

We'll help you avoid lengthy contracts, headaches and hassles.

Kwik credit decisions

You'll get an answer to your application within minutes.

Fast credit for the future

Finance your Ruud equipment and anything you want to add later.

Reduced interest/fixed payments

Get low interest and fixed monthly payments until the purchase is paid.

Minimum monthly payment

Take advantage of convenient monthly payments that fit your budget.

Deferred interest/no interest

Enjoy interest-free payments as long as the balance is paid by the due date.