Commercial Hybrid Electric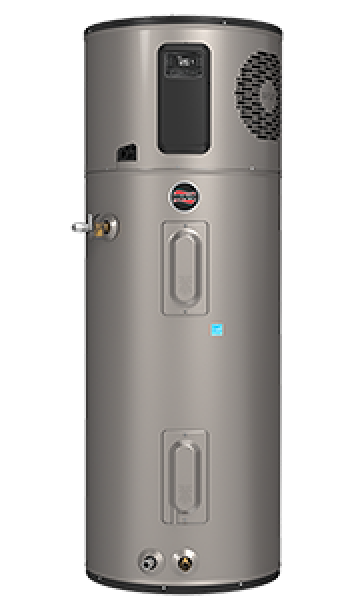 Save Money

Most efficient water heater available
Save up to $491 per year in energy costs - that's almost $5,000 over 10 years!
Pays for itself in two years or less due to an amazing 4.0 UEF and features that deliver long term savings
Program the water heater to match your demand throughout the day - higher production during high use times.
Reduce water heating costs while away for a week of just for the day with vacation or away mode
Work Sustainably
Commercial Hybrid Electric pulls heat from the air around it to heat water, reducing energy consumption
Uses 75% less energy than a standard electric water heater to help minimize your impact on the environment
Ready to add leak sensor and auto-shut off valve accessories for leak detection and prevention.
View weekly, monthly and yearly energy usage reports from any mobile device to help better manage energy consumption
Stay connected with an EcoNet® Smart Water Heater
Adjust water temperature track energy usage and operating modes all from your mobile device with built-in EcoNet® WiFi technology
Schedule set point adjustments and choose from five operating modes - energy saver, heat pump, electric, high demand, away - to fit your needs
Enjoy Sustainability that works
Enjoy plenty of hot water for the entire family with up to an 87-gallon first hour delivery
Hybrid Electric Makes it Easy
Easy replacement with the same dimensions as a standard electric water heater
With a zero clearance requirement, Hybrid Electric fits in small spaces, even in closets
All serviceable parts and condensate line are on the front of the unit, making service easy
Self Cleaning reduces sediment buildup to prolong tank life and maintains the water heater's efficiency and tank capacity
Based on review of water heaters available. Consult your tax advisor for details on eligibility requirements for any available tax credits. Local utility rebates vary by region. Estimated annual operating cost savings of the 40, 50, 65 and 80-gallon hybrid electric models compared to a standard electric water heater of like capacity with minimum efficiency. Payback based on average retail cost difference less available rebates and annual operating costs savings of a 50-gallon Hybrid Electric model compared to a standard electric water heater of like capacity with minimum efficiency, Energy reduction based on a comparison of 50-gallon Hybrid and a standard electric tank with minimum efficiency.
Specifications
Qualifies for a $300 Federal Tax Credit
Up to 4x the efficiency of a standard electric water heater
Built-in WiFi & CTA-2045 Communicator
Available in 40, 50, 65 and 80 gallon capacities
Energy Guide Details

Certifications
Documents
Commercial Hybrid Electric
Warranties
-Year Limited Tank and Parts Warranty

KwikComfort® Financing can help make your purchase even easier.
Ruud makes it easy to find a financing option that works for you! With many options and benefits available, KwikComfort Financing is the best way to get the home comfort you need without the wait.
Applications made easy

We'll help you avoid lengthy contracts, headaches and hassles.

Kwik credit decisions

You'll get an answer to your application within minutes.

Fast credit for the future

Finance your Ruud equipment and anything you want to add later.

Reduced interest/fixed payments

Get low interest and fixed monthly payments until the purchase is paid.

Minimum monthly payment

Take advantage of convenient monthly payments that fit your budget.

Deferred interest/no interest

Enjoy interest-free payments as long as the balance is paid by the due date.