RACCZR/ZT Renaissance™ Line Packaged A/C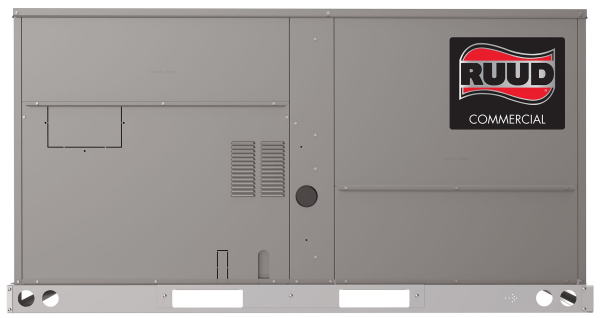 Engineered with installability and serviceability in mind, Renaissance makes easier, drop-in replacement possible in most cases without a curb adapter. Once installed, building owners and contractors will enjoy the serviceability advantages Renaissance offers with out ServiceSmart Package that includes a Qwik-Clean Drain Pan, the Qwik-Slide Blower Assembly, and PlusOne® Diagnostics with Dual 7-Segment LED Display.
RACCZR/ZT models in 3-5 tons offer up to 16.2 SEER2/17 SEER and 12 EER2/12.5 EER. RACCZT models in 6 tons offer up to 14.8 IEER and 11.2 EER. With 2-stage cooling (RACCZT models only) and optional HumidiDry®, these Renaissance models include many innovative features that enhance overall and part-load performance to meet or exceed DOE 2023 requirements.
Specifications
Optional PlusOne® ClearControl™/Optional PlusOne® HumidiDry®

Nominal sizes: 3-6 Tons
Up to 16.2 SEER2/17 SEER, 12 EER2 / 12.5 EER
One-stage cooling (RACCZR) or two-stage cooling (RACCZT)
Coil Type: Full MicroChannel
Certifications
Documents
RACCZR/ZT Renaissance™ Line Packaged A/C
Warranties
Parts: 5 Years
Compressor: 5 Years

KwikComfort® Financing can help make your purchase even easier.
Ruud makes it easy to find a financing option that works for you! With many options and benefits available, KwikComfort Financing is the best way to get the home comfort you need without the wait.
Applications made easy

We'll help you avoid lengthy contracts, headaches and hassles.

Kwik credit decisions

You'll get an answer to your application within minutes.

Fast credit for the future

Finance your Ruud equipment and anything you want to add later.

Reduced interest/fixed payments

Get low interest and fixed monthly payments until the purchase is paid.

Minimum monthly payment

Take advantage of convenient monthly payments that fit your budget.

Deferred interest/no interest

Enjoy interest-free payments as long as the balance is paid by the due date.