Hydronic Air Handler - Powered by Tankless Technology (RWMV)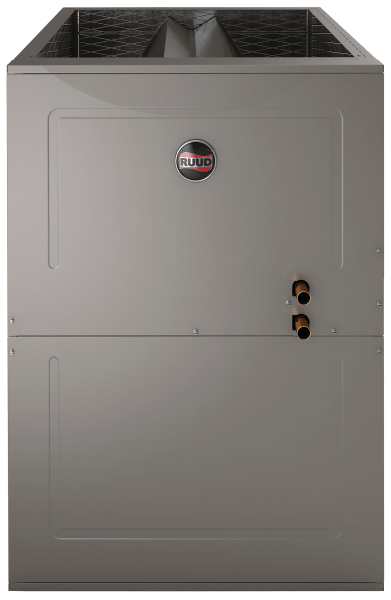 Hydronic Air Handler
Low profile 34-inch design is lighter, easier to handle and leaves room for optional accessories


Left or right side electric connections

Integrated control board features diagnostics, manages all operational functions and provides hookups for

humidifier and electronic air cleaner

An insulated blower compartment makes it one of the

quietest hydronic air handlers on the market today

Pre-paint galvanized steel cabinet

Molded permanent filter(s)

Transformer and control fuse protection

Solid bottom is standard

A variety of cooling coils and plenums designed to use with the Hydronic Air Handler are available as optional

accessories for air conditioning models

Stainless steel water pump

Field covertiable for vertical downflow, horizontal left hand, or right hand air supply

Energy efficient ECM motor which slowly ramps up speed for quiet and finely tuned operation to maintain constant CFM

Factory installed indoor coil

Pump control knob allows adjustment of the differential between the inlet water temperature and outlet air temperature.
Tankless Water Heater

Industry best! Minimum flow rate of .26 GPM,

minimum activation flow rate of .40 GPM

ENERGY STAR®

rated models available

Next generation burner technology

UMC-117 remote control and 10 ft. of thermostat wire

is included

EZ-Link™ cable available for high demand applications

to connect two tankless units to operate as one

High-altitude capability – up to 8,400 ft. elevation

above sea level (no chip required)

Intelligent electronic controls designed to increase energy

efficiency and safety

Self Diagnostic System

Rheem Exclusive! Built-in Condensate Neutralizer for safe disposal of condensate.

Rheem Exclusive! Overheat Film Wrap Safetly shuts down the heater at unsafe temperatures.

All models are compatible with 1/2" gas line.

Condensing models vent with PVC for easier installations.
Specifications
Integrated Heating and Water Heating
Hydronic heating coil
Certifications
Documents
RWMV
Warranties
Labor - 1 Year
Air Handler Heat Exchanger/Coil - 5 Years
Parts - 5 Years

KwikComfort® Financing can help make your purchase even easier.
Ruud makes it easy to find a financing option that works for you! With many options and benefits available, KwikComfort Financing is the best way to get the home comfort you need without the wait.
Applications made easy

We'll help you avoid lengthy contracts, headaches and hassles.

Kwik credit decisions

You'll get an answer to your application within minutes.

Fast credit for the future

Finance your Ruud equipment and anything you want to add later.

Reduced interest/fixed payments

Get low interest and fixed monthly payments until the purchase is paid.

Minimum monthly payment

Take advantage of convenient monthly payments that fit your budget.

Deferred interest/no interest

Enjoy interest-free payments as long as the balance is paid by the due date.