RHCLA Achiever® Series Commercial Split Air Handler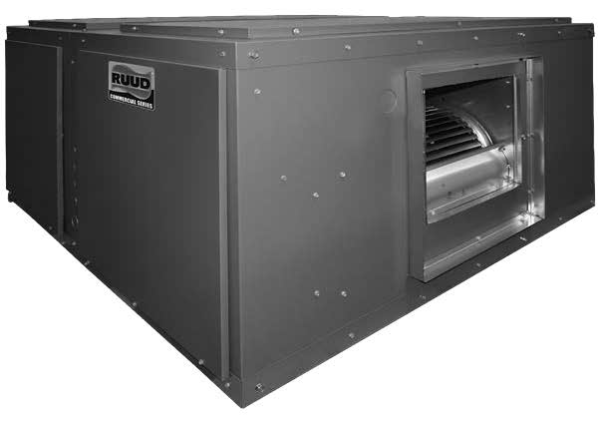 CABINET—Powder coat painted. Matching discharge plenums and decorative supply and return air grilles are available for use when units are to be installed within conditioned space.
MOTOR—Inherently protected motors are mounted inside of insulated cabinet to reduce motor noise. A choice of motor horsepowers and drive combinations are available to allow you to meet specified CFM at various static pressures up to 2" [.498 kPa] external static pressure.
LOW PROFILE—Allows for horizontal installation in most standard drop ceiling applications, and the movement of units through most standard doorways for addition or replacement work.
THERMAL EXPANSION VALVES—Standard all models.
FILTERS—One inch [25 mm] throwaway filters are standard, but filter racks are designed to accept either one inch [25 mm] or two inch [51 mm] filters.
EVAPORATOR COIL—Two circuit, interlaced row split coils are constructed with copper tubes and aluminum fins mechanically bonded to the tubes for maximum heat transfer capabilities. All coil assemblies are leak tested up to 450 PSIG [3100 kPa] internal pressure prior to installation into units.
REFRIGERANT CONNECTIONS—Field piping connections are made through a fixed post between two side access panels on either side of the unit. Allows flexibility to meet most field conditions as well as full accessibility after the installation is complete. Units may be used with two straight cool condensing units or single circuit manifolded in the field using the copper fittings shipped with each unit.
Specifications
Nominal sizes: 7.5, 10, 12.5 & 20 Tons
For use with matching RACL Models
Horizontal or vertical airflow
Certifications
Documents
Warranties
Limited Parts: One (1) Year

KwikComfort® Financing can help make your purchase even easier.
Ruud makes it easy to find a financing option that works for you! With many options and benefits available, KwikComfort Financing is the best way to get the home comfort you need without the wait.
Applications made easy

We'll help you avoid lengthy contracts, headaches and hassles.

Kwik credit decisions

You'll get an answer to your application within minutes.

Fast credit for the future

Finance your Ruud equipment and anything you want to add later.

Reduced interest/fixed payments

Get low interest and fixed monthly payments until the purchase is paid.

Minimum monthly payment

Take advantage of convenient monthly payments that fit your budget.

Deferred interest/no interest

Enjoy interest-free payments as long as the balance is paid by the due date.