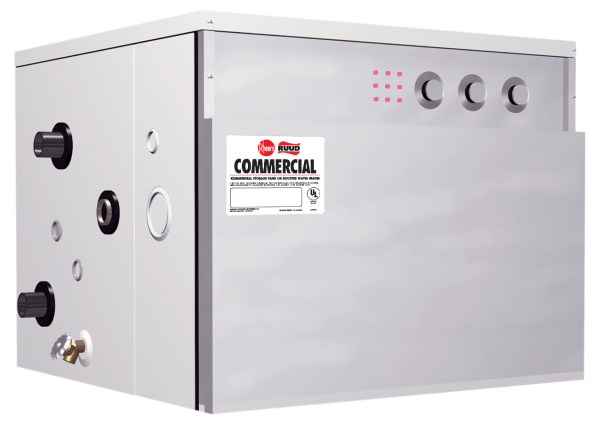 Electric boosters are designed to fit under counters and deliver sanitizing rinse water for all stationary rack and conveyor type commercial dishwashers
Features & Benefits
Our 10 gallon electric booster will raise preheated or cold water to 180° F rinse temperature for compliance with UL sanitation (NSF5) and all federal, state, county and local health department sanitation codes. In addition, these models can be used as circulating tank commercial electric water heaters for gravity or pump circulation to an auxiliary storage tank. They are available in 6 kW through 54 kW and in 208, 240, 277 and 480 voltages.
System Sentinel – All electric booster models employ an element diagnostic panel, utilizing light emitting diodes (L.E.D.), corresponding to the number and location of each heating element. L.E.D.'s are energized when the electric elements are operating. An unlit L.E.D. pinpoints the exact location of a non-functioning element, making element operation diagnosis simple and positive.
Long Life Tank Design – Proprietary steel formulation with a unique coat of high temperature porcelain enamel maximizes corrosion resistance resulting in a superior tank design.
Long Life Heating Elements – Separate screw-in type elements feature a Nichrome wire filament,embedded in magnesium oxide sealed in a copper tube to resist water chemical corrosion…for long element life and a long life performance.Elements are directly immersed in the water for maximum recovery efficiency (98%) and are easily changed by simply screwing new ones into the tank.
Integral Fusing – All models have integral fusing for each element.
Anode rods – Two (2) magnesium anodes are installed in each tank for maximum corrosion resistance.
AGA/ASME Rated T&P Valve – Factory installed relief valve
Electrical Connections – Pre-wired, accessible control box with multiple knock-outs on side insize selections to match the National Electric Code. Sizes range from 1/2" to 2". A grounding screw is provided for attaching an equipment grounding conductor.
Single Panel Control Box – It comes with hinged stainless steel door that provides immediate access to all electrical components and elements.

Terminal Block – All models are equipped with UL Listed terminal blocks for simplicity of installation. The terminal block will accept either copper or aluminum field connect wire.
120 Volt Control Circuit – All units are furnished with a fused 120 volt control circuit. All controls (thermostats, high temperature limit, etc.) are operated off of this basic 120 volt control circuit. This circuit is created by an internal multi-tap transformer of unique design that has four (4) taps for the primary voltages, 208, 240, 277 and 480.
Specifications
6KW - 54KW
208, 240, 277 and 480 voltages
System Sentinel™ LED diagnostic system
Immersion thermostat
Manual reset high limit control
6" stainless steel legs
Energy Guide Details

Certifications
Documents
Booster
Warranties
Tank - 3 Years
Parts - 1 Year

KwikComfort® Financing can help make your purchase even easier.
Ruud makes it easy to find a financing option that works for you! With many options and benefits available, KwikComfort Financing is the best way to get the home comfort you need without the wait.
Applications made easy

We'll help you avoid lengthy contracts, headaches and hassles.

Kwik credit decisions

You'll get an answer to your application within minutes.

Fast credit for the future

Finance your Ruud equipment and anything you want to add later.

Reduced interest/fixed payments

Get low interest and fixed monthly payments until the purchase is paid.

Minimum monthly payment

Take advantage of convenient monthly payments that fit your budget.

Deferred interest/no interest

Enjoy interest-free payments as long as the balance is paid by the due date.