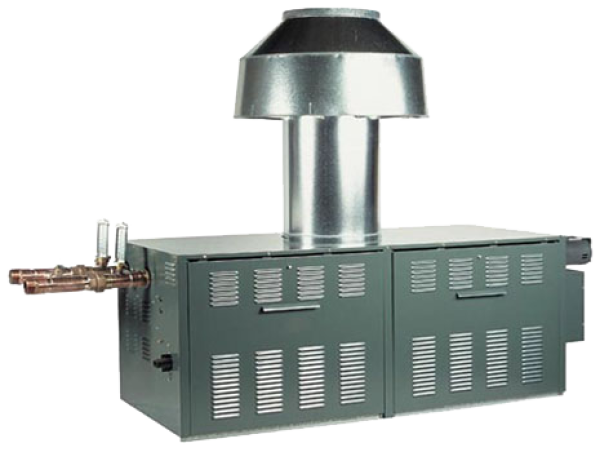 Hot water supply heaters are designed for applications that require high inputs and large volumes of stored hot water
Ruud hot water supply heaters are designed to provide hot water service to a variety of commercial applications when used in conjunction with an appropriately sized storage tank. Choose from 82% thermal efficiency models that range from 136,000 - 1,826,000 Btu/h and have maximum temperature setting of 180 degrees Fahrenheit. Applications include indoor or outdoor installation and for use with or without a circulating pump.
Reliable Heat Exchanger Design The all copper heat exchanger is a single bank, straight-through design with a floating return header immune to thermal shock.
Energy Saving Pump Control
The energy saving pump control is an electric device that allows the operator to set the desired time for the pump to run after the water heater shuts off. With the energy saving pump control the water heater pump is programmed to continue running for an optimum period of time in order to absorb the residual heat from the combustion chamber and use it in the system.
Compact Design
The low water heater mass design offers substantial savings in weight and cube over most cast iron, steel tube and storage type water heaters making it ideal for rooftop installations and in tight quarters.
Spark-to-Pilot (IID)
This system is standard on all models for minimal heat loss.
Glasslined Cast Iron Headers
These headers handle any aggressive water conditions. Models GBBP/GBB136 feature bronze headers.
Specifications
136,000 - 1,826,000 BTU/Hr.
82% thermal efficiency
Indoor and outdoor installations
Certified for a 160 PSI maximum working pressure
Energy Guide Details

Certifications
Documents
Hot Water Supply Heaters
Warranties
Tank - 1 Year
Parts - 1 Year
Heat Exchange - 5 Years

KwikComfort® Financing can help make your purchase even easier.
Ruud makes it easy to find a financing option that works for you! With many options and benefits available, KwikComfort Financing is the best way to get the home comfort you need without the wait.
Applications made easy

We'll help you avoid lengthy contracts, headaches and hassles.

Kwik credit decisions

You'll get an answer to your application within minutes.

Fast credit for the future

Finance your Ruud equipment and anything you want to add later.

Reduced interest/fixed payments

Get low interest and fixed monthly payments until the purchase is paid.

Minimum monthly payment

Take advantage of convenient monthly payments that fit your budget.

Deferred interest/no interest

Enjoy interest-free payments as long as the balance is paid by the due date.