Medium Duty Ultra Low NOx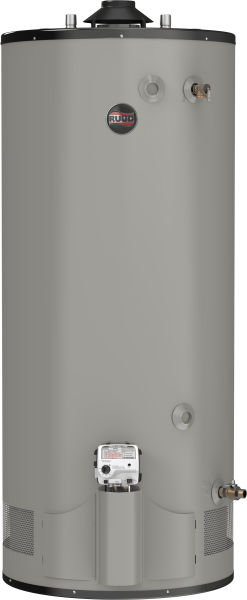 Medium duty ultra low NOx gas commercial water heaters meet 14 ng/J NOx requirements and are designed for greater installation flexibility.
Features and Benefits
The tighter the commercial retrofit, the more you will appreciate how this water heater's compact size simplifies installations. Designed for maximum temperature settings of 180° F.
Self-Diagnostic System
Integrated system control for easy installation and service.

Ultra Low NOx Burner
The self-powered burner design incorporates stainless steel multi-port burner tubes for long term ultra lowNOx performance, less than 14 ng/J. A sight glass allows for burner observation. The entire burner is removable and easily serviceable.
Patented Protection
Proprietary steel formulation with a unique coat of high temperature porcelain enamel to maximize corrosion resistance resulting in a superior tank design.
Patented Anode Rods
Premium grade anode rods are used to ensure corrosion resistance for a long tank life.
Efficiency
Rigid foam insulation provides superior insulating qualities, improves efficiency and reduces operating costs. Our patented process of injecting foam into the insulating cavity adds additional durability.
High Altitude Compliant
All models are certified for applications up to 10,000 feet above sea level.
CSA/ASME Rated T&P Valve
Factory installed relief valve
Full Port, Full Flow Brass Drain Valve
Factory installed brass drain valve allows for faster draining and servicing.
PLUS
Side water connections for space heating applications
Standard replacement parts
Specifications
Meets 14 ng/J NOx Requirements
Designed for maximum temperature settings of 180° F
Designed for greater installation flexibility
Energy Guide Details

Certifications
Documents
Meduim Duty Ultra Low NOx
Warranties
3-Year limited tank and 1-year limited parts warranty


KwikComfort® Financing can help make your purchase even easier.
Ruud makes it easy to find a financing option that works for you! With many options and benefits available, KwikComfort Financing is the best way to get the home comfort you need without the wait.
Applications made easy

We'll help you avoid lengthy contracts, headaches and hassles.

Kwik credit decisions

You'll get an answer to your application within minutes.

Fast credit for the future

Finance your Ruud equipment and anything you want to add later.

Reduced interest/fixed payments

Get low interest and fixed monthly payments until the purchase is paid.

Minimum monthly payment

Take advantage of convenient monthly payments that fit your budget.

Deferred interest/no interest

Enjoy interest-free payments as long as the balance is paid by the due date.