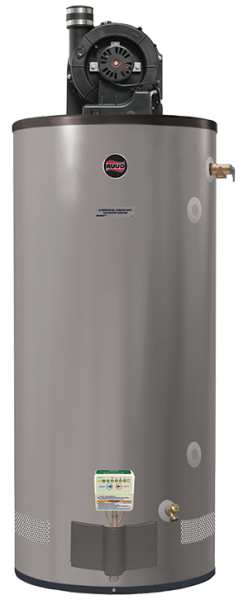 Power Vent commercial water heaters are designed for wherever medium duty quantities of hot water are required and offer up to 95 feet vent runs
Features:
Long life tank design – proprietary steel formulation with a unique coat of high temperature porcelain enamel to maximize corrosion resistance resulting in a superior tank design.
Guardian System™
Air / fuel shut-off system offers double protection
Maintenance free – no filter to clean
Flammable Vapor Detection Sensor
Protective control system that disables the heater in the presence of flammable vapor accumulation
Flexible Venting Options
Long venting lengths up to 95 feet
PVC, ABS, or CPVC vent pipe options
Vertical or horizontal termination
New Quiet Blower
Less noise than ever before
Self-Diagnostic System
Integrated self-diagnostic system control takes the guesswork away
Environmentally Friendly Burner
Low NOx design for low nitrous oxide emissions
High Altitude Compliant
Certified for applications up to 7,700 feet above sea level

Longer Life
Patented magnesium anode rod design incorporates a special resistor that protects the tank from corrosion
Provides longer tank life than using standard magnesium anode rods

Additional Features
Durable silicon nitride ignitor (HSI)
Standard 110 volt electrical connection
Exceeds National Appliance Energy Conservation Act (NAECA) and ASHRAE requirements
Durable brass drain valve
Temperature and pressure relief valve – CSA/ASME rated and factory installed
Maximum Temperature Setting – 160°F
Specifications
75,000 BTU/Hr.
Uses 3" or 4" schedule 40 PVC, CPVC or ABS pipe
Vents up to 95 feet
75 gallon capacity
Energy Guide Details

Certifications
Documents
PowerVent
Warranties
Tank - 3 Years
Parts - 1 Year

KwikComfort® Financing can help make your purchase even easier.
Ruud makes it easy to find a financing option that works for you! With many options and benefits available, KwikComfort Financing is the best way to get the home comfort you need without the wait.
Applications made easy

We'll help you avoid lengthy contracts, headaches and hassles.

Kwik credit decisions

You'll get an answer to your application within minutes.

Fast credit for the future

Finance your Ruud equipment and anything you want to add later.

Reduced interest/fixed payments

Get low interest and fixed monthly payments until the purchase is paid.

Minimum monthly payment

Take advantage of convenient monthly payments that fit your budget.

Deferred interest/no interest

Enjoy interest-free payments as long as the balance is paid by the due date.