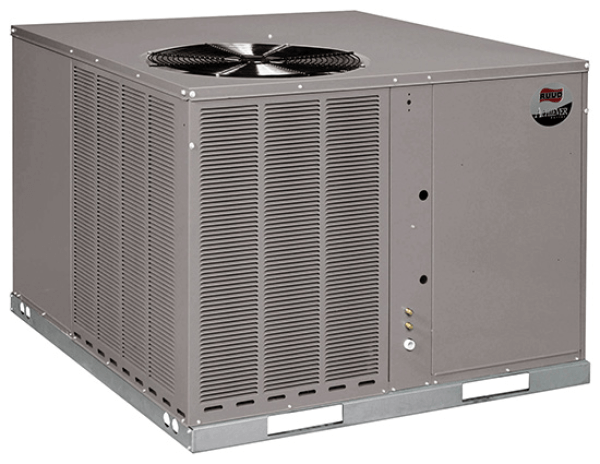 All models feature Scroll® compressors for maximum efficiency and quiet operation. The 5-Ton RACA15 model features Scroll UltraTech™ 2-Stage compressors with Comfort Alert™ diagnostics (see below), high/low pressure switches, and hard start kit.
Louvered condenser compartment to protect the coil against yard hazards and/or weather extremes.
One-piece top with a drip lip to help keep water off of the unit sides.
Drawn supply and return air openings feature a one-inch tall flange to prevent water migration into the ductwork.
Access panels have "weep holes" and channels to further help manage water run-off.
Side and down discharge options available on all models.
Easily accessible blower section complete with slide-out blower.
Externally mounted refrigerant connections are conveniently located for easy service diagnostics.
Micro Channel evaporator and condenser delivers superior performance with less refrigerant charge and less weight than conventional copper tube/aluminum fin coils. In addition the all aluminum construction has superior protection against formicary corrosion and aluminum tube rubbing potential. Its easier to clean and has a more robust surface.
Supplemental electric heat strips up to 15 kW are available (field or factory installed) for periods of extreme cold temperatures. Single point wiring simplifies installation.
All units feature an internal trap on the condensate line eliminating the need for installing an on-site external trap.
Easily accessible control box.
Thermal expansion valve standard on all models for superior superheat control, reliability, and energy efficiency at all operating conditions.
Solid core liquid line. Filter drier standard on all models (not shown).
Rugged baserail included for improved installation and handling.
Molded compressor plug.
Complete factory charged, wired and run tested.
A double sloped evaporator coil drain pan assures all water is removed from the unit to improve indoor air quality.
Specifications
2-5 ton
1 & 3 Phase
Scroll Compressor

Unique water management design
Certifications
Documents
RACA14 (2-5 Ton)
Warranties
Conditional Parts Warranty - 10 Years (1-Phase Residential)
Compressor - 10 Years (1-Phase Residential) 5 Years (1 & 3-Phase Commercial
Part 1 Year (Commercial)

KwikComfort® Financing can help make your purchase even easier.
Ruud makes it easy to find a financing option that works for you! With many options and benefits available, KwikComfort Financing is the best way to get the home comfort you need without the wait.
Applications made easy

We'll help you avoid lengthy contracts, headaches and hassles.

Kwik credit decisions

You'll get an answer to your application within minutes.

Fast credit for the future

Finance your Ruud equipment and anything you want to add later.

Reduced interest/fixed payments

Get low interest and fixed monthly payments until the purchase is paid.

Minimum monthly payment

Take advantage of convenient monthly payments that fit your budget.

Deferred interest/no interest

Enjoy interest-free payments as long as the balance is paid by the due date.