Above Ground Pool/Spa Heaters - 106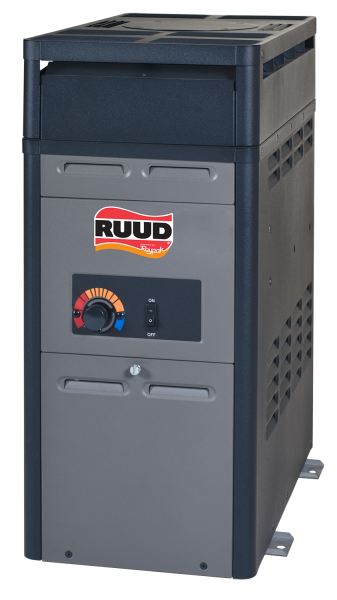 The Raypak 106 is the perfect choice for above-ground pools and spas. Raypak is the only manufacturer of this size heater to use all the engineering and components utilized in our bigger gas heaters. The unit is fully serviceable and built for years of operation. This may be our smallest pool and spa heater, but its built to the same exacting standards as the rest of our products. Extend your swim season, open your pool earlier and close it later. Your pool is always ready when you have a Raypak on duty.
Basic Data
| | | |
| --- | --- | --- |
| Model Number | Full BTU Input | Indoor Stack dia. |
| P-R106 | 105,000 | 6" |
Features:
PolyTuf Textured Powder Coating
The Raypak gas heater has a polyester-coated, non-corrosive cabinet that is more durable than solvent-borne and waterborne-coated metal cabinets. Every piece of sheet metal goes through a 7-stage wash system, making certain the powder paint has a perfect bond. Underneath the tough, yet beautiful finish you will find galvanized metal that offers superior rust prevention and years of durable service
Wind-Resistant Design
No need for fans to combat drafting problems under normal conditions. This heater is designed to draft naturally in outdoor installations with its exclusive low-profile design. It is so thoughtfully and carefully designed it actually protects itself from the things that tend to stifle ordinary pool and spa heaters. It delivers uninterrupted heating performance regardless of falling leaves, wind, airborne debris, rain, downdrafts, updrafts, sleet, snow, etc.
Polymer Headers
Prevent rust stains from harming your pool or spa's surface, giving you years of trouble-free swimming pleasure.
All-Copper-Fin-Tube Heat Exchanger
The fin tubes of the heat exchanger are each made from a single piece of extruded copper. This integral-fin design allows maximum heat transfer to be attained and maintained. Raypak also uses thick stainless steel tube sheets for robust construction and rust free operation.
Controls
The 106 is available standard with an easy to use analog dial. The electronic ignition system requires external power (120VAC or 240VAC) and generates a pilot only when there is a call for heat. Units come with a 3 foot, 3 prong power cord.
2" Water Connections
Supplied with every Raypak 106 heater is a set of 2" flange connections to make your installation secure and effortless.
Automatic Bypass
The Raypak 106 comes standard with a built in water bypass so it can handle different GPM's without having to adjust your flow rates manually. The bypass also helps keep a constant engineered flow through the tubes to help reduce condensation caused by cold water.
Burner Tray
Every burner tray is built to last, from the stainless steel burner deck to the aluminized metals used in the heat sensitive areas. Innovative design allows for the easy removal of the tray for servicing.
Fire Tile
A ceramic fiber combustion box keeps your heater running efficiently while keeping the outside jacket cool. By using this space-age material the heater won't retain residual heat after it is turned off, allowing it to be installed without the use of costly metal heat sinks.
Fuel-Efficient
Energy-smart Raypak heaters consistently achieve the highest efficiency ratings. They meet or exceed all federal and state standards.
Available for natural gas or propane.
Please note the Raypak model 106 is not designed to meet the emissions regulations in areas requiring Low NOx levels.
Reduce input 4% for each 1000 feet above sea level when installed above 2000 feet elevation.
Specifications
Models: 106
PolyTuf Textured Powder Coating
105,000 BTU/HR input
Analog Controls
All-Copper-Fin-Tube Heat Exchanger, rust-free waterways
2" Water connections
Meets or Exceeds Federal Energy Standard
Outdoor Standard, Indoor with optional draft hood
Natural or Propane Gas
Energy Guide Details

Certifications
Documents
Above Ground Pool/Spa Heaters - 106
Warranties
Limited - 1 Year

KwikComfort® Financing can help make your purchase even easier.
Ruud makes it easy to find a financing option that works for you! With many options and benefits available, KwikComfort Financing is the best way to get the home comfort you need without the wait.
Applications made easy

We'll help you avoid lengthy contracts, headaches and hassles.

Kwik credit decisions

You'll get an answer to your application within minutes.

Fast credit for the future

Finance your Ruud equipment and anything you want to add later.

Reduced interest/fixed payments

Get low interest and fixed monthly payments until the purchase is paid.

Minimum monthly payment

Take advantage of convenient monthly payments that fit your budget.

Deferred interest/no interest

Enjoy interest-free payments as long as the balance is paid by the due date.