Classic Heat Pump Pool Heaters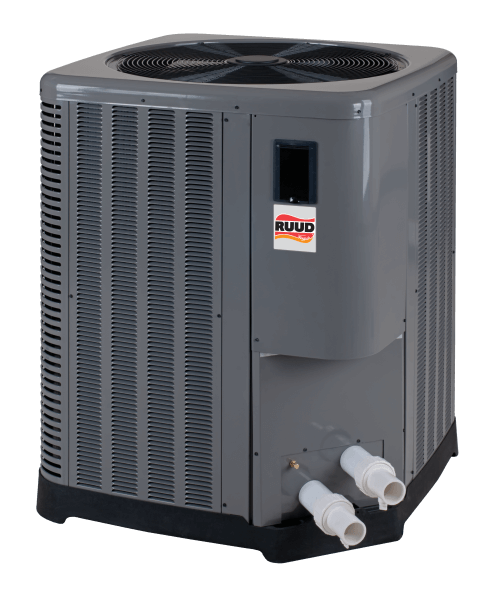 Cabinet

Exclusive DuraSteel™ Powder-Coated Cabinet
Same rugged steel construction used by all the major air conditioner manufacturers. Fully louvered steel jacket protects the evaporation coil from storm debris, hail and harsh weather. Not to mention the winning goal in a back yard soccer match. A plastic cabinet is no match for the all steel cabinet.
Quiet Operation
3 Blade Swept Wing Fan
Precision engineered and tuned for our heat pump. This means more air over the coil which translates to greater efficiency all while being whisper quiet!
Extremely Tough Composite Base
Rust proof and ultra sound deading base material keeps your heat pump up and running for years while holding sound levels to an absolute minimum.
Compressor
Scroll Compressor
Scroll compressors are quiet and efficient compared to piston type compressors. They provide higher efficiency, lower sound levels, superior durability and unsurpassed reliability. The unique design of a scroll compressor actually wears in over time, not out!
Titanium Heat Exchanger
Spiral Titanium Tube
The spiral titanium tube heat exchanger provides a corrosion-free waterway that can withstand the abuses of harsh pool chemistry. The spiral tube helps reduce deposit build-up and increases efficiency by performing a "scoop-and-lift" action.
Internal Automatic Water Bypass
Plumbing Connections Off-set 2" PVC union connections
Digital Controls - Basic Functions
Pool/Spa Control
Your digital heat pump pool heater can be set to have a different target temperature for your pool and spa. This allows you to dial in just the right spa temperature and never have to adjust it again. The pool can be set to a lower, more energy saving temperature.
Remote Compatible
The digital heat pump pool heater can be easily controlled by most two-wire and three-wire remote systems. The digital display will flash "Remote" to let you know that it is under control of a third party automation system. Simply press the up and down arrows for 5 seconds to release the control from the remote mode and regain local control.
On Board Diagnostics
Tells you, the homeowner if there is a problem. Provides the service technician with detailed diagnostic information in real english.
Digital Control - Built-in Mini Automation
Solar Priority Control
Allows solar to be the primary heat source and your heat pump as a back up booster.
Heat Pump Priority Gas Heater Back Up Control
Heat pump is the primary source for heat with gas as a booster when needed.
Multi Unit Control
Stages heaters ability to come on by delaying the start.
3-Way Valve Control
Control and program 3-way valves to work with pool and spa mode on digital control. No external parts to buy.
Pump Control and Time Clock
Specifications
Models: D5450ti, D6450ti, D8450ti
Three Sizes: 103,000, 119,000, 140,000 at 80/80/80
AHRI Certified and Listed
Scroll Compressor
Titanium spiral tub heat exchanger
2" PVC union connections
Digital control
Energy Guide Details

Certifications
Documents
Classic Heat Pumps Residential Pool Heaters

KwikComfort® Financing can help make your purchase even easier.
Ruud makes it easy to find a financing option that works for you! With many options and benefits available, KwikComfort Financing is the best way to get the home comfort you need without the wait.
Applications made easy

We'll help you avoid lengthy contracts, headaches and hassles.

Kwik credit decisions

You'll get an answer to your application within minutes.

Fast credit for the future

Finance your Ruud equipment and anything you want to add later.

Reduced interest/fixed payments

Get low interest and fixed monthly payments until the purchase is paid.

Minimum monthly payment

Take advantage of convenient monthly payments that fit your budget.

Deferred interest/no interest

Enjoy interest-free payments as long as the balance is paid by the due date.