SOME MASTERPIECES ARE MADE OF PAINT OR STONE. OURS, FROM METAL.
Explore the Ruud® Renaissance™ Line—the result of years of research and development, creative engineering and innovation. Crafted with smart new features and exclusive PlusOne® advantages for easy replacement, installation and service and offered in a wide range of capacities, making Renaissance the right choice for a wide range of commercial applications.

Uptime Durability
High-quality critical components, lean manufacturing and robust design like Scroll
™
compressor technology

Easier Installation
New footprint for seamless installs on most replacement units and faster and easier serviceability to meet customer needs

High–Efficiency Savings
Energy savings of over 30% compared to current baseline technology for lifetime savings of thousands of dollars

Enhanced Serviceability
PlusOne
®
ServiceSmart
™
package offers built-in features for quick troubleshooting and easy access

Dedicated Support
Ruud Commercial products are supported by dedicated teams to ensure our products provide the performance you expect and that choosing Ruud is a pleasure.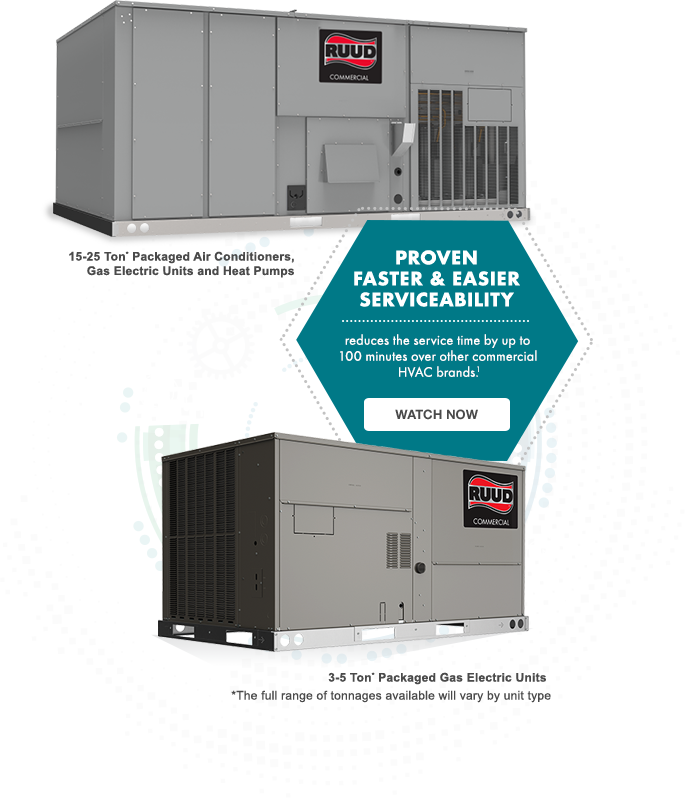 Want to know more about Ruud Commercial products or add Renaissance to your next project?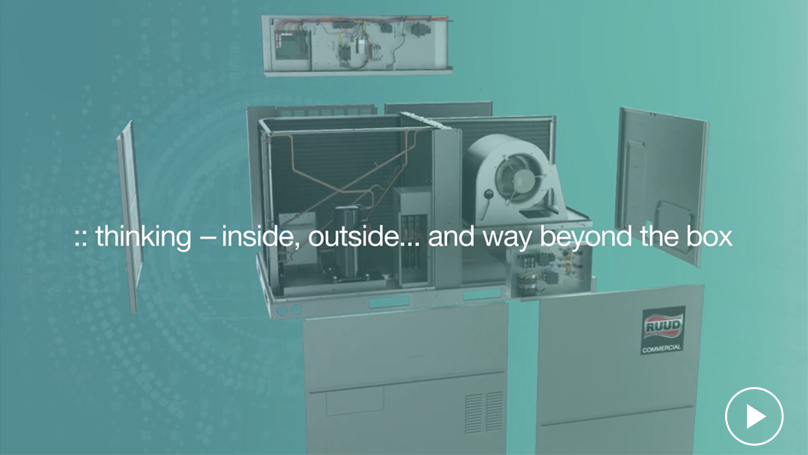 Make Your Next Packaged System Replacement Easier Than Ever with Ruud Renaissance.™
Engineered to make replacement jobs a breeze, Renaissance units feature industry-common footprints that eliminate the need for a curb adapter.
Quick, easy drop-in replacement is made further possible with our common connection locations and convertible airflow, saving you and your customer time and money.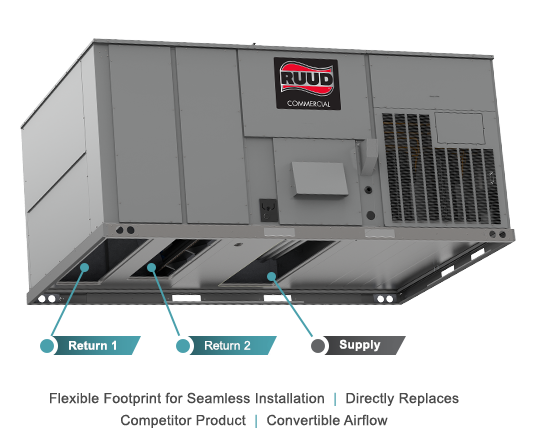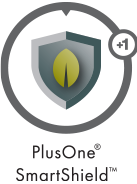 The industry's only 15-25 ton* Commercial Packaged units to feature indoor and outdoor interlaced MicroChannel coils.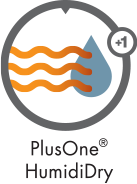 The industry's first single-phase 3-6 ton* products with reheat, improving occupant comfort, enhancing performance, and saving energy.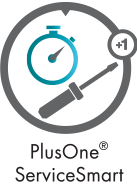 Reduce time spent performing industry-standard service & preventative maintenance by up to 100 minutes over other commercial HVAC brands.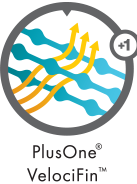 Patented, redesigned heat exchanger tubing that increases heat transfer through an innovative velocity concept, improving overall efficiency.
Broad Product Lineup 3-25 tons* Offered in A/C, G/E, and Heat Pump options, the Renaissance lineup offers a dependable choice for a broad range of small to medium-sized buildings.
Application Flexibility Designed to maximize installability, serviceability, and ease-of-use, Ruud Renaissance units are the right choice for a wide range of commercial applications.
Innovative technology for improved efficiency and comfort like our patented Velocifin™ gas heat exchanger, full indoor and outdoor MicroChannel Coils, Ruud PlusOne® HumidiDry®, and a new, patent-pending Cooling System Design.
Renaissance products are engineered, manufactured, and supported locally. Each unit is run-tested in our Fort Smith, AR factory and available through our vast distribution network across the US and Canada.
Easy, free, web-based tools make a product selection and generate a submittal package with just a few clicks at rapidspec.com. Or, head over to our BIM library to download 2D and 3D CAD® files and Revit® files.

We're focused on innovating Ruud products with intent, engineering solutions with lifetime sustainability in mind—from material selection to smart features to responsible recycling.
As a member of the Rheem® family of brands, Ruud is a big part of Rheem Manufacturing's commitment to taking a greater degree of responsibility for future generations. Renaissance products incorporate many features that contribute to our goal of building a more sustainable future. Most have earned the Sustainability Standout Seal, reserved for products that do not compromise on comfort and quality, perform high on energy efficiency, use responsible materials, work towards greenhouse gas reduction and include innovative reliability features.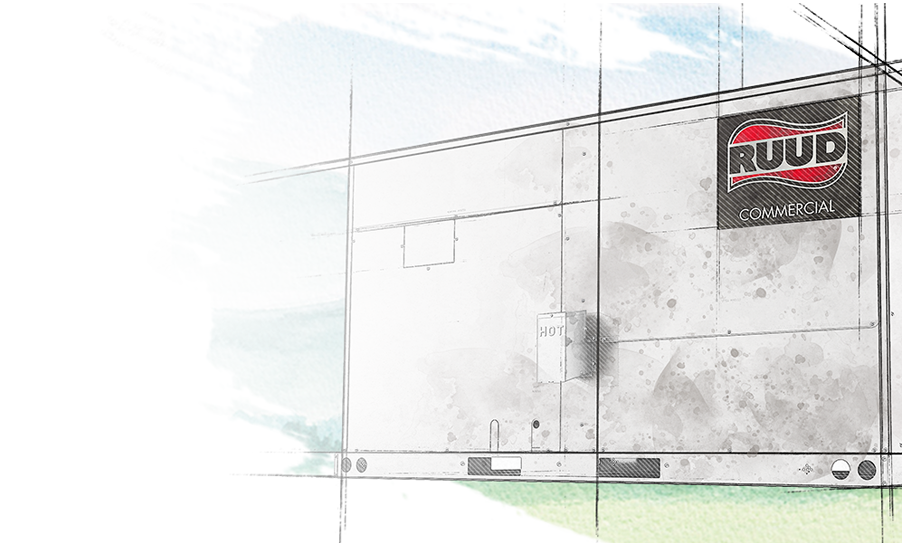 Upgrade to a commercial masterpiece
Get the industry–leading performance and support of the Ruud Renaissance Line.
1Per a MIAT Commercial HVAC Competitive Time Study, conducted June 4–6, 2019. 2Available on 3-5 Ton Heat Pumps Only – coming Q4 2019 3HumidiDry is available on ZS/ZT models, and will be available on 3–6 Ton ZR/ZS models in 2020. 4Only applicable to 3–5 Ton Gas Electric models.