Professional Ultra™ Super High Efficiency Gas Water Heater with LeakSense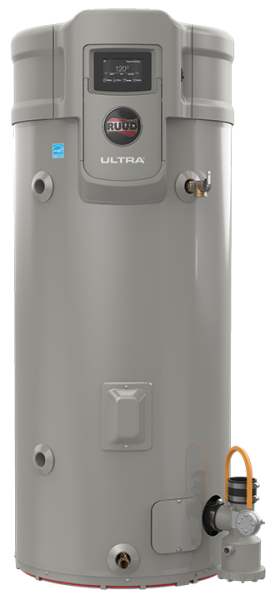 Professional Ultra™ Super High Efficiency Gas Water Heater with LeakSense™ offers maximum efficiency & continuous flow
Efficiency
Up to .90 UEF reduces operating cost
ENERGY STAR® rated
Performance
Up to 3.8 GPM continuous flow of hot water at the setpoint temperature
Highest Hot Water Delivery (FHR) of 192 gallons in MaxMode
Easy Installation
Built-in Condensate Neutralizer
Certified for multiple termination configurations
Easy front access to connections and components
Zero clearance on sides and back
Longest vent runs, installs as PV or PDV with same unit
8" Centers on top water connections for easy replacement of standard gas water heaters
1/2" NPT gas connection
3/4" NPT water inlet and outlet; 3/4" condensate drain connections
Plugged side taps
Temperature and pressure relief valve installed
Integration
LCD Display with built-in water leak sensor and system health alert with audible alarm
Integrated EcoNet® WiFi-connected technology and free mobile app gives users control over water systems, allowing for customizable temperature, vacation settings, energy savings and system monitoring at home or away.
LeakSense™ Built-in Leak Detection System detects any leak large or small, internal or external
Optional auto water shut-off valve accessory limits leaks to no more than 20 ounces of water
Operation Modes
MaxMode™ for up to 15% more hot water on demand
Vacation/Away mode for energy savings during non-use time
High Altitude Compliant
Certified to 10,100 ft. above sea level – High altitude LP models are required for 2000-7800 feet
Plus...
Dual anode rods extend tank life
Enhanced flow brass drain valve for faster draining
Advanced Controls and Start-up Verification for better diagnostics, faster installation and easier servicing
Design certified to NSF/ANSI 372 (Lead-free)
Specifications
Up to .90 UEF reduces operating cost
Highest Hot Water Delivery (FHR) of 192 gallons in MaxMode
Easy front access to connections and components
LCD Display with built-in water leak sensor and system health
Energy Guide Details

Certifications
Documents
Professional Ultra Super High Efficiency Gas Water Heater with LeakSense
Warranties
12-Year limited tank and parts warranty

KwikComfort® Financing can help make your purchase even easier.
Ruud makes it easy to find a financing option that works for you! With many options and benefits available, KwikComfort Financing is the best way to get the home comfort you need without the wait.
Applications made easy

We'll help you avoid lengthy contracts, headaches and hassles.

Kwik credit decisions

You'll get an answer to your application within minutes.

Fast credit for the future

Finance your Ruud equipment and anything you want to add later.

Reduced interest/fixed payments

Get low interest and fixed monthly payments until the purchase is paid.

Minimum monthly payment

Take advantage of convenient monthly payments that fit your budget.

Deferred interest/no interest

Enjoy interest-free payments as long as the balance is paid by the due date.