Choice Series: High Efficiency with ECM Motor (WH1T)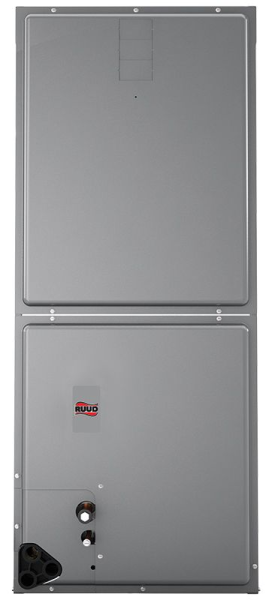 Features
WH1T feature a Constant Torque motor (ECM) which provides enhanced SEER performance with most WeatherKing outdoor units.
Versatile 4-way convertible design for upflow, downflow, horizontal left and horizontal right applications.
Factory-installed indoor coil.
Sturdy cabinet construction with 1.0 inch [25.4 mm] of foil faced insulation for excellent sound and insulating characteristics.
Field-installed auxiliary electric heater kits provide exact heat for indoor comfort. Kits include circuit breakers which meet U.L. and cUL requirements for service disconnect.
11/2 ton [5.3 kW] through 5 ton [17.6 kW] models are between 421/2 to 57 inches [1080 to 1448 mm] tall and 22 inches [559 mm] deep.
All models meet or exceed 330 to 400 CFM [156 to 189 L/s] per ton at .3 inches [.7 kPa] of external static pressure.
Enhanced airflow up to .7" external static pressure.
Evaporator is constructed of aluminum fins bonded to internally grooved aluminum tubing.
Suitable for application in mobile homes.
†A.F.U.E. (Annual Fuel Utilization Efficiency) calculated in accordance with Departmentof Energy test procedures.
Specifications
Efficiencies up to 14 SEER
Enhanced airflow up to 7" external static pressure
Suitable for application in mobile homes.
Constant Torque Singe Stage Airflow
Aluminum coil
Thermostatic Expansion Valve (TXV)
Certifications
Documents
Warranties
Parts - 5 Years

KwikComfort® Financing can help make your purchase even easier.
Ruud makes it easy to find a financing option that works for you! With many options and benefits available, KwikComfort Financing is the best way to get the home comfort you need without the wait.
Applications made easy

We'll help you avoid lengthy contracts, headaches and hassles.

Kwik credit decisions

You'll get an answer to your application within minutes.

Fast credit for the future

Finance your Ruud equipment and anything you want to add later.

Reduced interest/fixed payments

Get low interest and fixed monthly payments until the purchase is paid.

Minimum monthly payment

Take advantage of convenient monthly payments that fit your budget.

Deferred interest/no interest

Enjoy interest-free payments as long as the balance is paid by the due date.