Endeavor™ Line Air Handler RH2VZ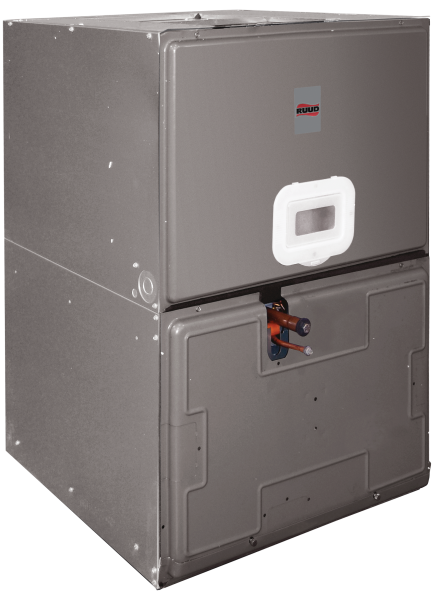 Peace of Mind Performance

: Relax, you're covered by some of the best warranties in the industry

1

– up to 10 Year Limited Parts

2

.

Quieter Operation

: Provided by two-stage operation and truly variable speed airflow technology and sturdy cabinet construction with 1.0 inch of foil faced insulation for some of the quietest sound characteristics.

EcoNet® Enabled

: Operates with the easy-to-use EcoNet Smart Thermostat, which optimizes system performance and provides a new level of protection and precision comfort.

Optimal Comfort

: Constant Torque Motor and two-stage operation ensures a steady stream of just-right heated airflow to maintain your comfort level preference while providing humidity control.
1Registration is required for the conditional parts and unit replacement warranty (if applicable). For complete details of the limited and conditional warranties, including applicable terms and conditions, contact your local Contractor or go to Rheem.com for a copy of the product warranty certificate. 2Refer to the chart for specific warranty terms by product.
Specifications
EcoNet Enabled
Constant CFM Motor
Dip Switch Free Installation Commissioning via Bluetooth Technology
Certifications
Documents
RH2VZ Endeavor™ Line Air Handler
Warranties
Conditional Parts (Registration Required) - Ten (10) Years

KwikComfort® Financing can help make your purchase even easier.
Ruud makes it easy to find a financing option that works for you! With many options and benefits available, KwikComfort Financing is the best way to get the home comfort you need without the wait.
Applications made easy

We'll help you avoid lengthy contracts, headaches and hassles.

Kwik credit decisions

You'll get an answer to your application within minutes.

Fast credit for the future

Finance your Ruud equipment and anything you want to add later.

Reduced interest/fixed payments

Get low interest and fixed monthly payments until the purchase is paid.

Minimum monthly payment

Take advantage of convenient monthly payments that fit your budget.

Deferred interest/no interest

Enjoy interest-free payments as long as the balance is paid by the due date.