EcoNet™ Enabled Ultra® Series Modulation Upflow Gas Furnace (U97V)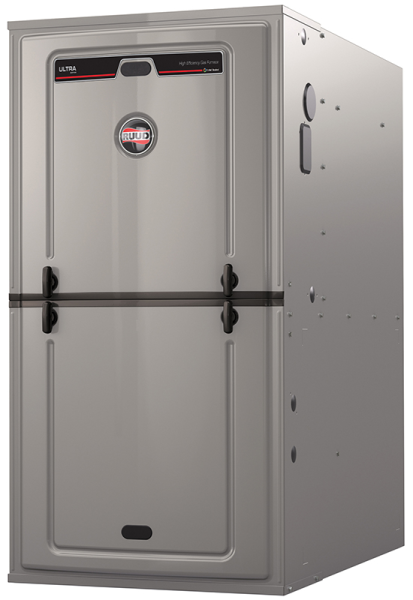 We've Thought of Everything
Industry-first patented features and 360°+1 engineering make the Ruud U97V Ultra Series Gas Furnace a smart option. From top to bottom, inside and out, and every angle in between, we've thought of everything to bring you efficient and reliable indoor comfort.
Enjoy greater comfort and performancethanks to a Modulating Operation that offers a more consistent indoor environment — keeping cold spots to a minimum.
Quiet and efficient comfort is what you get with a Ruud Ultra Series Gas Furnace. The new patented heat exchanger design provides improved airflow, which reduces operating sound by 20%**. The variable-speed ECM motor also contributes to a quiet, more efficient operation. It's engineered to provide better humidity control while using less power. Overall, this is one of the quietest furnaces on the market. And because it's high-efficiency, your monthly energy bill will benefit, too.
Reliability is of the utmost importance when it comes to your home's comfort. Our Ultra Series Gas Furnace comes standard with the Ruud-exclusive PlusOne Ignition System. This proven direct spark ignition (DSI) is one of the most reliable ignition systems available today. Used exclusively by Ruud in the Heating and Cooling industry, this proven technology is also used on ovens and stoves — appliances that you rely on daily to ignite.
Protect your home with our PlusOne Water Management System. The industry's first blocked drain sensor will shut off your furnace when a drain is blocked, preventing water spillage and potential water damage to your home. All this and one of the best warranties in the industry translate to fewer repair bills and more cozy nights at home.
Easy installation and maintenance features benefit consumers, too. This means savings on installation costs and maintenance. The Ruud Ultra Series Gas Furnace is designed with PlusOne Diagnostics — our industry-first, 7-segment LED display that makes service calls quick and easy.
Reap Savings Through Maximum Efficiency The U97V Ruud Ultra Series Gas Furnace is not only high-performing, it also saves you energy and money. A 97% AFUE rating may qualify you for local and/or utility rebates. It's everything you need in a gas furnace — and more.
Energy Savings are a welcome bonus to any heating system. Maximum airflow and a patented heat exchange design mean the Ruud Ultra Series Gas Furnace uses fuel efficiently and economically. It gets an ENERGY STAR® rating for maintaining comfortable temperatures while reducing energy consumption and lowering utility bills.
Utility Rebates are now widely offered as incentives to reduce energy consumption and make responsible use of resources. With a 97% AFUE rating, you may be eligible for a rebate. Visit ruud.com/rebate to check your state's policy on local utility and municipality rebates, and get ready to reap the rewards of choosing the best for your home.
This furnace does not meet air district requirements of 14 ng/J NOx emissions limit, and thus is subject to a mitigation fee of up to $450. This furnace is not eligible for the Clean Air Furnace Rebate Program: www.CleanAirFurnaceRebate.com.

This furnace is to be installed for propane firing only in air districts requiring 14 ng/J NOx emission limits. Operating in natural gas mode is in violation of these Rules.
Specifications
EcoNet™ Enabled
ECM Motor
Modulating operation
Ruud-Exclusive PlusOne™ Ignition System
Ruud-Exclusive PlusOne™ Water Management System
Industry-First PlusOne™ Diagnostics
Certifications
Documents
Warranties
Parts - 10 Years
Heat Exchanger - Limited Lifetime
Conditional Unit Replacement - Limited Lifetime

KwikComfort® Financing can help make your purchase even easier.
Ruud makes it easy to find a financing option that works for you! With many options and benefits available, KwikComfort Financing is the best way to get the home comfort you need without the wait.
Applications made easy

We'll help you avoid lengthy contracts, headaches and hassles.

Kwik credit decisions

You'll get an answer to your application within minutes.

Fast credit for the future

Finance your Ruud equipment and anything you want to add later.

Reduced interest/fixed payments

Get low interest and fixed monthly payments until the purchase is paid.

Minimum monthly payment

Take advantage of convenient monthly payments that fit your budget.

Deferred interest/no interest

Enjoy interest-free payments as long as the balance is paid by the due date.