EcoNet™ Enabled Achiever Plus® Series Three-Stage (UP17)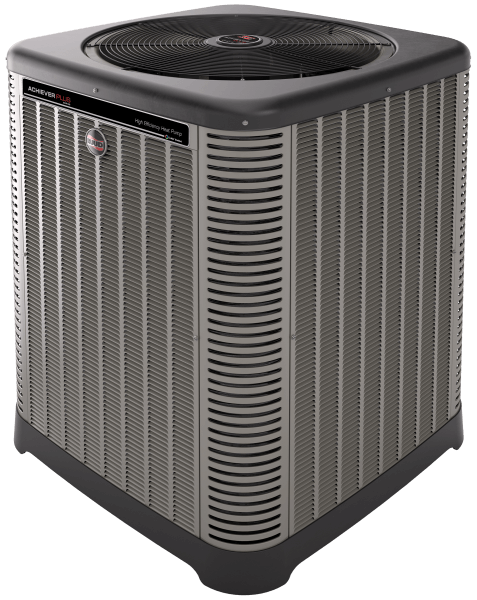 Features:
EcoNet™ Enabled product. The EcoNet Smart Home System provides advanced air & water control for maximum energy savings and ideal comfort [1].
Energy Efficiency - Feature 17-SEER cooling rating across all capacities [2].
Copeland Scroll™ variable speed compressor. This inverter driven compressor provides three stages of heating and cooling operation for maximum comfort and energy savings. The overdrive feature in heating provides heating down to 7°F.
Equipped with electronic expansion valve to precisely control variable refrigerant flow.
New composite base pan – dampens sound, captures louver panels, eliminates corrosion and reduces number of fasteners needed
Improved tubing design – reduces vibration and stress, making unit quieter and reducing opportunity for leaks
Optimized defrost characteristics - decrease defrosting and provide better home comfort
Powder coat paint system – for a long lasting professional finish
Optimized reversing valve sizing – improves shifting performance for quieter unit operation and increased life of the system
Enhanced mufflers – help to dissipate vibration energy for quieter unit operation
Modern cabinet aesthetics – increased curb appeal with visually appealing design
Curved louver panels – provide ultimate coil protection, enhance cabinet strength, and increased cabinet rigidity
Optimized fan orifice – optimizes airflow and reduces unit sound
Rust resistant screws – confirmed through 1500-hour salt spray testing
PlusOne™ Expanded Valve Space– 3"-4"-5" service valve space – provides a minimum working area of 27-square inches for easier access
Integrated heat pump lift receptacle – allows standard CPVC stands to be inserted into the base
PlusOne™ Triple Service Access – 15" wide, industry leading corner service access – makes repairs easier and faster. The two fastener removable corner allows optimal access to internal unit components. Individual louver panels come out once fastener is removed, for faster coil cleaning and easier cabinet reassembly
Diagnostic service window with two-fastener opening – provides access to the TXV valves and the heat pump reversing valve before opening the unit.
External gauge port access – allows easy connection of "low-loss" gauge ports
Single-row condenser coil – makes unit lighter and allows thorough coil cleaning to maintain "out of the box" performance
35% fewer cabinet fasteners and fastener-free base – allow for faster access to internal components and hassle-free panel removal
Service trays – hold fasteners or caps during service calls
QR code – provides technical information on demand for faster service calls
Fan motor harness with extra-long wires – allows unit top to be removed without disconnecting fan wire
---
[1] Purchase and installation of EcoNet WiFi Kit and EcoNet Control Center required. WiFi broadband Internet connection required. Must be paired with EcoNet Enabled furnace or air handler.
[2] Refers to the full range of 2-, 3-, 4- and 5-ton capacity Classic Plus™ Series Three-Stage Heat Pumps offered by Rheem.
Specifications
Efficiencies up to
EcoNet™ enabled
Three-stage operation
Certifications
Documents
UP17 (EcoNet™ Enabled)
Warranties
Conditional Unit Replacement - 10 Years
Parts - 10 Years

KwikComfort® Financing can help make your purchase even easier.
Ruud makes it easy to find a financing option that works for you! With many options and benefits available, KwikComfort Financing is the best way to get the home comfort you need without the wait.
Applications made easy

We'll help you avoid lengthy contracts, headaches and hassles.

Kwik credit decisions

You'll get an answer to your application within minutes.

Fast credit for the future

Finance your Ruud equipment and anything you want to add later.

Reduced interest/fixed payments

Get low interest and fixed monthly payments until the purchase is paid.

Minimum monthly payment

Take advantage of convenient monthly payments that fit your budget.

Deferred interest/no interest

Enjoy interest-free payments as long as the balance is paid by the due date.