Achiever Series: Up to 85.9% AFUE ECM and PSC Motors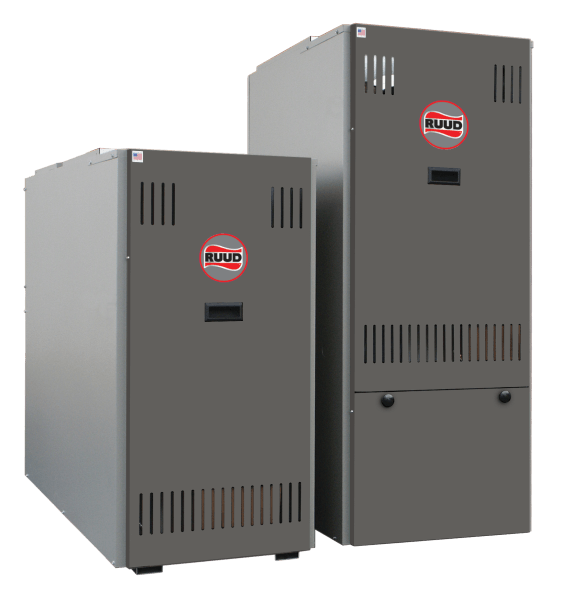 The Ruud Classic Series® upflow oil furnace is for installation in properly ventilated utility rooms, closets or alcoves.
Direct Drive blower assemblies for heating and air conditioning applications
10-gauge primary and 14-gauge secondary heat exchanger
Front cleanout ports extend through front wall for accessibility
Efficiencies up to 85.9%
All furnaces have standard Honeywell controls
Available with Beckett, Riello Carlin burners
Extended vestibule on all units
ECM blower assemblies for heating and air conditioning applications
ECM Control board located in furnace vestibule
ECM controls set for 2-stage air conditioning, 2-stage heat pump back up
Specifications
Models ROCA-E, ROCA-E and ROLA-P
Hi Boy ROCA-E, ROCA-P (ECM Motor)
Lo Boy ROCA-E, ROCA-P (PSC Motor)
Efficiencies up to 85.9%
Input Rates from 85,500 to 175,000 BTU/HR
Certifications
Documents
ROCA Highboy
ROLA Lowboy
Warranties
Parts - 5 Years
Heat - Limited Lifetime

KwikComfort® Financing can help make your purchase even easier.
Ruud makes it easy to find a financing option that works for you! With many options and benefits available, KwikComfort Financing is the best way to get the home comfort you need without the wait.
Applications made easy

We'll help you avoid lengthy contracts, headaches and hassles.

Kwik credit decisions

You'll get an answer to your application within minutes.

Fast credit for the future

Finance your Ruud equipment and anything you want to add later.

Reduced interest/fixed payments

Get low interest and fixed monthly payments until the purchase is paid.

Minimum monthly payment

Take advantage of convenient monthly payments that fit your budget.

Deferred interest/no interest

Enjoy interest-free payments as long as the balance is paid by the due date.