Professional Achiever Series: Standard Electric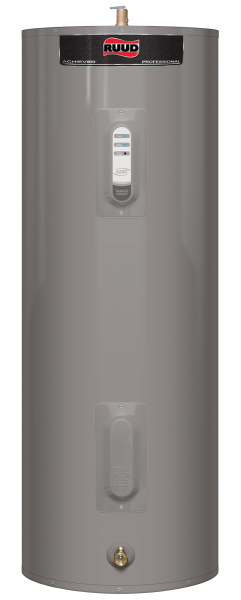 Professional Achiever™ electric water heaters are engineered for longer life – resistored heating elements and premium grade anode rod
Efficiency
.90 - .93 UEF
Isolated tank design reduces heat loss
Resistored copper upper element and resistored Lifeguard™ stainless steel lower element to prolong anode rod and tank life
Performance
FHR: 45 - 67 gallons, based on gallon capacity
Recovery: 21 GPH at a 90° F rise
System Sentinel (Available on selected models)
Exclusive diagnostic system with glowing LEDs that verify heating element operation. LEDs pin point the exact location of functioning or non-functioning heating elements
Longer Life
Premium grade anode rod provides long-lasting tank protection
Features:
Electric junction box located above heating elements for easy installation
Over-temperature protector cuts off power in excess temperature situations
Automatic thermostat keeps water at desired temperature
Plus…
EverKleen™ self cleaning device fights harmful sediment build-up with a high-velocity spiraling water stream – helps operating efficiency by saving energy, money and improving tank life
Enhanced-flow brass drain valve
Temperature and pressure relief valve included
Low lead compliant
Specifications
.90 - .93 UEF
Enhanced-flow brass drain valve

19.9 to 55 gallon capacities



Energy Guide Details

Certifications
Documents
Professional Achiever Standard Electric
Warranties
Tank - 6 Years Limited
Parts - 6 Years Limited
With ProtectionPlus™ the 6-year limited tank warranty becomes 10 years!

KwikComfort® Financing can help make your purchase even easier.
Ruud makes it easy to find a financing option that works for you! With many options and benefits available, KwikComfort Financing is the best way to get the home comfort you need without the wait.
Applications made easy

We'll help you avoid lengthy contracts, headaches and hassles.

Kwik credit decisions

You'll get an answer to your application within minutes.

Fast credit for the future

Finance your Ruud equipment and anything you want to add later.

Reduced interest/fixed payments

Get low interest and fixed monthly payments until the purchase is paid.

Minimum monthly payment

Take advantage of convenient monthly payments that fit your budget.

Deferred interest/no interest

Enjoy interest-free payments as long as the balance is paid by the due date.