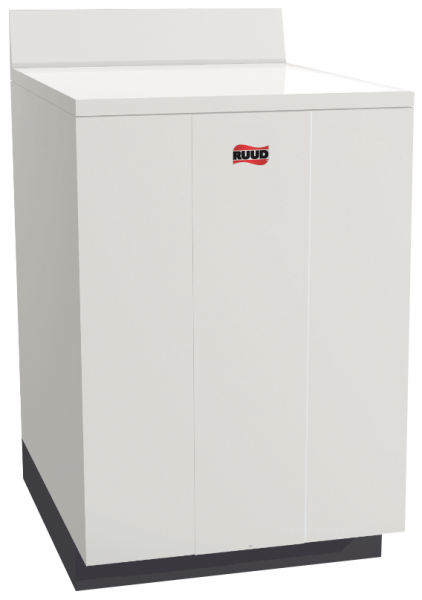 Table top water heaters are a good choice when installations are in kitchens or other work areas that require additional counter space
Features:
Baked enamel counter top is acid and heat resistant
Four inch high back splash protects interior wall from spills and stains
Recessed base provides comfortable standing area while working
Channel at rear accommodates piping and permits water heater to fit snugly against back wall
More hot water at a low operating cost
Efficiency
.81 UEF
Well insulated for reduced standby heat loss
Performance
FHR: 50 gallons
Recovery rate: 21 gallons GPH at a 90 degree rise
Capacity & Dimensions
40 Gallon model: 24 inch diameter: 25 inch depth and 36 inches high
Easy Installation & Service
Table top surface is easily remove for access to cold and hot water outlets at top of tank, electrical connections and anode rod replacement
Longer Life
Patented magnesium anode rod with resistor protects the tank from rust
Plus…
Durable direct immersion resistored heating element
Full-flow, brass drain valve
Temperature and pressure relief valve
Standard replacement part
Specifications
Recessed base and channel in back panel for snug fit against the wall
40 gallon capacity
Baked enamel top for a beautiful finish
Engineered components for longer life – resistored heating elements and premium grade anode rod
Energy Guide Details

Certifications
Documents
Table Top
Warranties
Tank Warranty - 6 Years Limited
Parts Warranty - 6 Years Limited

KwikComfort® Financing can help make your purchase even easier.
Ruud makes it easy to find a financing option that works for you! With many options and benefits available, KwikComfort Financing is the best way to get the home comfort you need without the wait.
Applications made easy

We'll help you avoid lengthy contracts, headaches and hassles.

Kwik credit decisions

You'll get an answer to your application within minutes.

Fast credit for the future

Finance your Ruud equipment and anything you want to add later.

Reduced interest/fixed payments

Get low interest and fixed monthly payments until the purchase is paid.

Minimum monthly payment

Take advantage of convenient monthly payments that fit your budget.

Deferred interest/no interest

Enjoy interest-free payments as long as the balance is paid by the due date.